United Airlines Crew Injures Disabled Man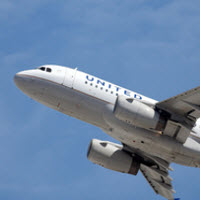 A disabled man was badly injured by United Airlines cabin crew while being moved from his seat into an aisle chair, the man's wife alleges.
Bailey Weber Wright and her disabled husband complain of a nightmare experience on board United. "I am very disappointed by my in last trip with United Airlines," Mrs Weber Wright posted on United's Facebook page. "After a long flight we landed at our destination the crew came out to lift my husband out of the seat and into the isle chair then treated him in an inexcusable manner. My husband said he was uncomfortable and it was hurting when he was lifted as they scraped his side along the seat."
The woman alleges that the person lifting her husband told him that he was not injured and that he couldn't feel it anyway. "Just because a man is in a wheelchair and cannot walk doesn't mean that he has no feeling," she said. "He was not fine. You bruised him and cut a huge gash in his side. He was bleeding while you told him to be quiet and that he was fine."
Mrs Weber Wright posted the picture of her disabled husband's injured tummy to corroborate her allegations. "This is a
photo of my husband's side the next day," she said. "This does not look like something that he seemed to be making up, as your crew insinuated."
To make things worse, the woman alleges leaving a number of messages with United customer services, none of which was acknowledged. "We received nothing, not even an apology for treating my husband and me so horribly," Mrs Weber Wright said. "Is it United's normal practice to harm and humiliate a handicapped man and then never address concerns about your airline?"
Data from the U.S. Department of Transportation's Air Travel Consumer Report shows 85 disability related complaints were filed against the airline in the first nine months of 2013, making United the top offender among US air carriers for the period.
United Airlines was not available for comments at the time of publishing.