Lufthansa Leave British Disabled Woman Stranded Losing Her Wheelchair
Written by Roberto Castiglioni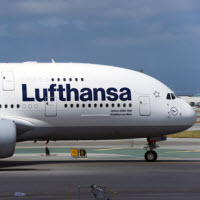 A British disabled woman traveling to Romania for business was left stranded for days without her wheelchair after Lufthansa lost it at Frankfurt airport.
Christine Lester will not forget her travel experience with Lufthansa anytime soon. On 26 October, Christine left Birmingham to Bucharest via Frankfurt.
Upon arriving at destination, she discovered that both her electric wheelchair and her luggage were missing. "Upon arriving at Bucharest, I was told my wheelchair and luggage had been left behind at Frankfurt, and they would be delivered after one or two days," she said.
European air travel Equality law states that airports must provide replacement for lost or damaged wheelchairs. However, Mrs Lester was not given that option. To make things worse, Lufthansa personnel at Bucharest airport did not offer Christine any assistance.
Christine, who was traveling for business, received much needed support from her business counterparts, the Mayor and deputy Mayor of Braila. "They were most understanding of my situation and provided a car with driver," she said.
"From our documentation it appears that Mrs Lester and her husband landed in Frankfurt on October 26th with a delay of 12 minutes; the connecting flight to Bucharest was planned to depart at 09:50 am. The gate B54/55 already closed at 09:35 am due to an apron position," a Frankfurt airport spokesperson told Reduced Mobility Rights. "At Frankfurt Airport we recommend in general a minimum connecting time of 45 minutes for passengers and their luggage. In the case of M. and Mrs Lester, this threshold might even be too short. Unfortunately, the planned time frame was too short to transfer the luggage and the scooter to the connecting flight. Rest assured that we are very interested in processes running smoothly."
Tight connections at congested airports like Frankfurt can trigger such incidents. However, airlines are fully aware of the challenges, yet fail to suggest disabled travellers more suitable itineraries. The reasons why Christine's wheelchair repatriation was not prioritized is still being investigated.
"I travel extensively throughout Europe on business, and I am negatively impressed with the lack of assistance from Lufthansa, certainly not the way to treat disabled people," the woman said.
Lufthansa, who said is investigating the incident, was not immediately available for comments.