MS Sufferer Denied Toilet Access On Jet2 Flight
Written by Roberto Castiglioni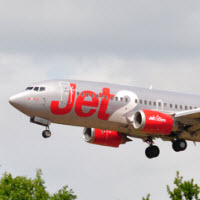 In a complaint filed with the CAA on Tuesday, MS sufferer John Findlay accuses Jet2 airline of denying him toilet access on two separate flights. 
48-year-old John Findlay needs a wheelchair to go about his daily life. He has suffered from Multiple Sclerosis for 18 years with persisting symptoms including severe fatigue and paralysis of the lower limbs.
"As a full time wheelchair user one of my main priorities is to ensure, prior to booking a holiday, that the services and provisions offered meet my requirements," John said. "One of the main issues I have is that there is an appropriate provision on board for me to use in order to get to and from the toilet; I asked the travel agent if there was an aisle chair available on Jet2.com aircraft and I was told yes."
Unfortunately for the MS sufferer, Jet2 do not carry aisle chairs on board aircraft.  "Upon boarding my flight I asked where the aisle chair was located on board to be told "we don't have such a thing"
John's nail in the coffin was delivered by the cabin crew. "I was told that cabin crew are not insured to take passengers to and from the toilet."
Multiple Sclerosis affects the nerves making control over bodily functions not possible, therefore leading to complications.   On both flights, the MS sufferer spent five gruelling hours confined to his seat, unable to make his way to the lavatory.
"In light of Jet2.com's decision not to install on-board wheelchairs on its aircraft, we must ensure that passengers who require assistance in moving to the toilet travel with a personal assistant who can provide this assistance," Jet2 customer services said.
"The CAA is reviewing Jet2's conditions of carriage to ensure they are compliant with the regulations, and will contact the airline to ensure they are clear on their obligations," a CAA spokesperson told Reduced Mobility Rights following the initial report on the incident.
"Our current policy for the handling of passengers with disabilities does follow CAA regulations but we welcome any further detail on where they feel we can be even more compliant," a Jet2 spokesperson said.
Reduced Mobility Rights believe Jet2 breached the covenants of air travel Equality law. Annex II of (EC)1107/2006 mandates airlines to provide "assistance in moving to toilet facilities if required."
On Tuesday, John Findlay filed a formal complaint with the Civil Aviation Authority, alleging Jet2 breached Annex II of air travel Equality law. 
Reduced Mobility Rights is bringing the MS sufferer gruelling experience to the attention of the Passengers Rights Unit at the European Commission, to underline the need of changing air travel equality law by mandating airlines to offer aisle chairs on all aircraft with more than 60 seats. 
In the United States, availability of aisle chairs is mandatory on all aircraft with more than 60 seats. The U.S. Department of Transportation (DOT) punishes airlines not complying with the rule by assessing civil penalties not to exceed $27,500 per violation.