Disney Tackles Disability Abuse, Airports And Airlines Will Follow Suit
Written by Roberto Castiglioni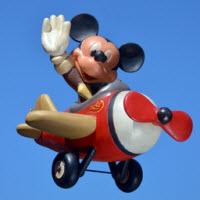 Preferential lanes for people with disabilities will no longer be available at Disneyland and Disney World in a bid to curb abuse, Disney said.
Disneyland Resort spokeswoman Suzi Brown broke the news in an interview published on the California based Orange County Register.
"Given the increasing volume of requests we receive for special access to our attractions, we are changing our process to create a more consistent experience for all our guests while providing accommodations for guests with disabilities," Brown told the Orange County Register. "[The system] certainly has been problematic, and we wanted to curb some of the abuse of this system," she said.
Until today, visitors with disabilities of Disneyland and Disney World could access preferential lanes that would guarantee almost immediate access to attractions and rides. However, since no evidence of disability is required, the system has been abused to skip long lines.  
Starting 9 October, people with special needs will access Disneyland and Disney World attractions like guests using FastPass tickets. In a nutshell, people will special needs will have to experience longer wait times. 
Disney's move does not come as a surprise. As unfortunate as it sounds, hundreds of able-bodied imbeciles do not hesitate to abuse facilities available to people with disabilities for their personal advantage.
Wheelchair abuse is a well known plague affecting North American and European airports and airlines alike. 
The phenomenon is known in North America as "miracle flights" as abusers request wheelchairs to fast-track security checkpoint lines at departure. In Europe, abusers are nicknamed "runners" since they leave the wheelchair and walk away as soon as they reach the arrivals hall.
Both U.S. and European law do not require proof of disability to request help when traveling by air. Widespread wheelchair abuse has devastating effects on services airports and airlines are required to provide by law to passengers with disabilities.  
Wheelchair abuse at airports is the primary cause for humiliating long delays passengers with disabilities experience. It is also one of the reasons for delayed departure of flights, thus affecting all traveling public.
Disney's move may set the course of action for airports and airlines to curb on wheelchair abuse. However, by introducing proof of disability the air travel industry will not penalise those who genuinely need assistance when traveling by air but only weed out abusers, making services more efficient for genuine users.
Introducing proof of disability in the United States will need changes to the non-discrimination law, 14 CFR Part 382. 
In Europe, the 2012 interpretative guidelines to the equality regulation (EC) 1107/2006 have introduced the possibility of requesting proof of disability. 
"Only where an assistance provider identifies an obvious situation of abuse should a more specific in-depth enquiry be undertaken. Such an investigation should be handled with the utmost care, taking into consideration the dignity and right to privacy of the passenger concerned," the guidelines state.