KLM Forgets Same Disabled Woman Twice In One Year
Written by Roberto Castiglioni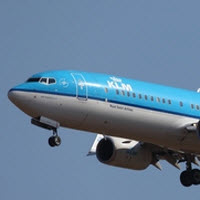 KLM has serious questions to answer after leaving a disabled woman behind for the second time in one year.
What are the odds of being forgotten twice by the same airline at the same airport because of the same mistake? Christine Wanjiku is the unlucky winner of the Bad Luck Lottery jackpot, courtesy of KLM Royal Dutch Airlines.
A developmental delay does not prevent 29-year-old Christine Wanjiku from traveling by air. However, because of her condition, Christine needs a little assistance when flying. 
Airports and airlines across Europe are equipped and trained to provide assistance to passengers like this young woman. Most of the time passengers with disabilities enjoy seamless journeys.  On rare occasions, things can go wrong as Christine and her family learned.
Last year Christine was left sitting in a remote area of Amsterdam airport for over six hours and ended up missing her connecting flight. The young girl's appalling experience could have lasted longer had her mum not reported her missing. 
Following the first incident KLM Royal Dutch Airlines apologised unreservedly to Miss Wanjiku and her mother. The Dutch flag carrier blamed the incident on an "unfortunate mistake occurred at the time of the booking regarding the nature of assistance required to assist Christine."
Fool me once, shame on you; fool me twice, shame on me. Perhaps Christine and her mum should have been wary of KLM. Then again, what were the odds the airline would make the same mistake twice?
"We booked this trip with KLM with the voucher that was given to us because of last year's incident," Christine' mum said.  "We agreed to receive this voucher and to travel again with KLM to reconcile with the airline."  Rose went personally to the KLM office well ahead of the date of travel to make sure the airline would be aware of the type of assistance Christine needs.
On the morning of 22 August Rose was waiting for Christine's arrival. "After a long wait, I went to seek further information from the KLM airport desk," Rose recalls. The worried mum was first told Christine had gotten on board her flight from Amsterdam scheduled to land in Geneva at 8.25 am. The flight arrived, but Christine was nowhere to be found.
Eventually, Christine arrived at the destination with a delay of eight hours. "No airport assistance was offered to her upon arrival in Amsterdam, and this is the reason why she missed her flight," Rose said. Christine was not allowed to call her mum and was not given any food or drinks during the six hours she had to wait for her connecting flight. 
Reduced Mobility Rights launched an investigation into the young woman's incident. Data from Amsterdam airport shows that KLM entered the incorrect assistance code in Christine's booking. 
The assistance passengers with special needs require is entered in their booking records as a four letter code. The correct code for passengers like Christine is "DPNA" (disabled passenger with intellectual or developmental disability needing assistance). Instead, Christine's booking was showing the code "WCHS" (Wheel Chair to top of Steps - passenger is able to walk but unable to ascend or descend stairs).
Records show a wheelchair was available for Christine upon her arriving at Amsterdam. However, flight assistants did not escort her to the assistance agent as required, and she was recorded as "no show". 
KLM Royal Dutch Airlines said the complaint is "very serious" and assigned "the highest priority" to the investigation into the incident.
"I need to understand what went wrong in Amsterdam," Rose said. "Can KLM weigh what would have happened had Christine followed other people and disappeared?"