Delta Investigating Disabled Hawaiian Man Baraka Kanaan Claims He Had To Crawl Off Aircraft
Written by Roberto Castiglioni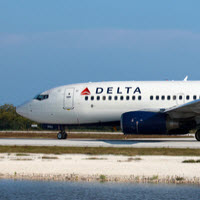 Delta Air lines is investigating claims of disabled Hawaiian man Baraka Kanaan who sued the airline for allegedly make him crawl off the aircraft.
"Caring for and accommodating the needs of customers with disabilities to ensure accessibility is a top priority for Delta. When we were made aware last year of a customer who was displeased with our service in Nantucket, we began an investigation. We are continuing to take this situation very seriously," a spokesperson for Delta Air Lines told Reduced Mobility Rights on Friday.
On July 23 Mr Kanaan filed a lawsuit against Delta citing "physical and extreme emotional suffering" resulting from allegedly not being provided assistance getting off the aircraft his at Nantucket airport, Mass., on July 27, and getting on his flight to Maui on July 29 2012. Mr Kanaan alleges having to "crawl down the aisle of the airplane, down the stairs of the aircraft and across the tarmac to his wheelchair without any assistance," the complaint says. Nantucket Memorial Airport is not equipped with airbridges.
We are primarily seeking vindication," Rick Holcomb, Kanaan's attorney, told ABC News. "My client does not want this to happen to other people."
Mr Baraka Kanaan, also known as "Dr. DreamingBear", is the founder and president of Lovevolution Foundation 501(c)3. Mr Kanaan's legs are partially paralyzed following a car accident. "People who were able-bodied were standing around with their arms crossed watching me crawl, watching me under the guise they could not touch me lest they were liable," Kanaan told Hawaii News Now.
Reduced Mobility Rights understands Mr Kanaan filed a complaint with the Aviation Consumer Protection office at the US Department of Transportation. The status of this complaint is unknown. "We do not disclose such information for privacy reasons," a spokesperson for the DoT said. Mr Kanaan was not available for comments at the time this article was published.
The Air Carrier Access Act, CFR 14 Part 382, mandates airlines promptly provide or ensure the provision of assistance requested by or on behalf of passengers with a disability in enplaning and deplaning. This assistance must include, as needed, the services of personnel and the use of ground wheelchairs, accessible motorized carts, boarding wheelchairs, and/or on-board wheelchairs, ramps or mechanical lifts.
However, the obligation is waived when "no existing boarding and deplaning assistance device on the market will accommodate the aircraft without a significant risk of serious damage to the aircraft or injury to passengers or employees, or internal barriers are present in the aircraft that would preclude passengers who use a boarding or aisle chair from reaching a non-exit row seat."
"Delta continually looks for ways to better support our customers, especially those who require extra care or assistance. It is our policy to fully comply with all applicable rules and regulations governing accessibility for customers with disabilities which includes providing timely assistance during the boarding and deplaning process on Delta aircraft and in airport facilities around the world. We take very seriously this customer's claims," the spokesperson for Delta said. "We cannot comment further as this case is in litigation."
In February 2011, the DoT fined the Atlanta based airline $2,000,000 for violating rules protecting passengers with disabilities. This fine was the largest penalty the U.S. Department of Transportation ever assessed against an airline.
The Air Travel Consumer Report for 2012 indicates Delta Air Lines has taken action to correct past mistakes. Last year, the airline carried a total of 164, 571,529 passengers, making Delta Air Lines the largest US carrier per passengers flown in 2012. There were 56 complaints filed by passengers with disabilities against the airline in 2012, down from 79 in 2011, and 114 in 2010. 
"Delta Air Lines is closing existing gaps in operation by reviewing best practice guidelines and working with disability associations to identify ways to better support the needs passengers with disabilities," a spokesperson for the airline told Reduced Mobility Rights.
In 2012, low cost carrier Southwest received 41 complaints from passengers with disabilities, American Airlines 100, US Airways 70, and United Airlines 144.
Do you require assistance when traveling by air? Have your say