UK CAA Tells Pakistani Airline AirBlue To Comply With EU Disability Law
Written by Roberto Castiglioni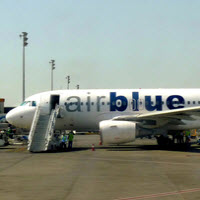 The UK Civil Aviation Authority has taken formal steps to ensure Pakistan airline AirBlue stops discriminating passengers with disabilities.
Pakistan's second largest airline AirBlue operates a direct flight from Islamabad to Manchester three times per week. Airlines flying to and from the UK must comply with British and European regulations.
The airline's management confirmed not welcoming disabled guests in a shocking interview with The Express Tribune. A spokesperson for AirBlue told the Pakistani newspaper that main problem with carriage of passengers with disabilities is the cost of renting wheelchairs and other equipment to help them on and off the aircraft.
Last week Reduced Mobility Rights spoke to AirBlue management at their Manchester office. AirBlue confirmed they would accept disabled passengers only if accompanied and added that passengers with special needs would not be provided any assistance by the airline.
European anti-disability discrimination law mandates that all airlines departing from the UK cannot refuse carriage on the grounds of disability or reduced mobility and must provide assistance on board the aircraft.
Based on these shocking findings, Reduced Mobility Rights sent a request to the CAA to suspend AirBlue operating permit, therefore putting their flight to the UK on hold, on the basis of non-compliance with EC1107/2006.
This morning the Civil Aviation Authority confirmed having taken steps to ensure AirBlue complies with EC1107/2006. "The CAA has been in touch with UK representatives of Air Blue," a CAA spokesperson told Reduced Mobility Rights on Monday. "We are working with them to ensure that their customers receive the entitlements they are due under law."
The UK Civil Aviation Authority recently stepped up its efforts to tackle disability discrimination in air travel.  "Air travel must be accessible for all – not only is that a basic right, but it is also underpinned by European and UK legislation. The CAA will act where airlines are failing to meet their obligations, and ensure that all airlines operating from the UK make provision to enable people with mobility issues to travel, unless there is a clear safety reason that makes it impossible," the CAA spokesperson said.
Over the past few years Reduced Mobility Rights has been working closely with the CAA, providing intelligence and expert advice to help the National Enforcement Body tackle discrimination against passengers with special needs.  
"We welcome the information, intelligence and expertise provided by Reduced Mobility Rights and other stakeholders within the sector to ensure that cases where airlines are failing to meet their obligation and letting people with mobility issues down," the CAA spokesperson said. "We look forward to continuing to work closely in future, particularly as Reduced Mobility Rights are a member of our PRM advisory panel."
About the author
Founder and Editor-in-Chief of Reduced Mobility Rights, Roberto Castiglioni is an expert of airport accessibility, management and support procedures of passengers with special needs and air travel related regulations. He has been a frequent flyer for the past three decades and has several years of experience as travelling partner of a passenger who requires assistance.
Roberto provides accessibility and access consulting services to airports and airlines. He is a member of the UK Civil Aviation Authority Access To Air Travel Working Group. He is also a member of the Easyjet Special Assistance Advisory Group. Esaag provides Easyjet with strategic guidance and practical advice on the evolving needs of passengers requiring special assistance.