London Heathrow Airport Terminal 4 Accessibility Report
Written by Roberto Castiglioni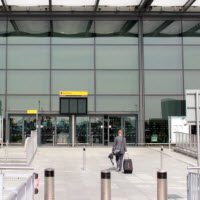 The eccentric infrastructure of London Heathrow airport is the usual suspect when accessibility becomes uncertain, and T4 is no exception to the rule.
On 22 July Reduced Mobility Rights conduced a walk and talk accessibility audit of Heathrow Terminal 4. 
Getting to London Heathrow Terminal 4 by train
T4 can be reached via the Piccadilly Line of the London Underground or Heathrow Connect from Paddington Station. Accessibility of the Piccadilly Line is poor, with Hounslow, Earl's Court, Green Park, King's Cross and Oakwood being the only fully accessible stations. Accessibility is definitely better on the Heathrow connect.
Getting to London Heathrow Terminal 4 by car
 

The kerbside drop off area is fairly distant from the terminal building entrance, over 50 metres. However,

there are three calling points located at the three main drop-off areas in front of the terminal building.

 

The meeting point landside is located in front of the left entrance to T4. It is an open space waiting area. Seating capacity is adequate during normal operations, but may become very busy during peak traffic. Seating capacity is expected to double in the coming months.

 

Heathrow Terminal 4 provides assistance to approximately 15.000 passengers with special needs per month.

 
Terminal navigation
Recently refurbished, T4 provides passengers adequate room both landside and airside. Terminal navigation is good
thanks to wider than average corridors. This enables a wider use of buggies to transfer passengers with reduced mobility from waiting lounges to the gates and from the gates to passport controls and onward connections. Heathrow is currently expanding its fleet of buggies for passengers with disabilities.
Security check points and passport control areas, two critical areas in every airport, are being equipped with induction loops for the hearing impaired. Hearing loops are also being rolled out at each boarding gate throughout London Heathrow airport terminals. This represents a major step forward in the assistance provided to deaf passengers, who typically desire to remain fully independent when traveling by air. However, there are no tactile footpaths for blind passengers, impeding access to the option of more independent journeys for the visually impaired.
The biggest accessibility problem at Terminal 4 is the location of the airside lounge for passengers with special needs. Looking at the plus side, the Serenity Lounge is in one of the terminal's quietest areas, one of the Heathrow's few airside lounges for passengers with disabilities in close proximity of a food court. However, the lounge entrance is located in a cul de sac, right next to boarding area of Gate 7.
We have witnessed with our own eyes the disruption caused to passengers with special needs by a poorly organized queue of passengers waiting to board an aircraft at Gate 7. Moreover, the closest accessible toilet is literally around the block, some 200 meters away from the lounge.  The lounge is equipped with pagers for passengers with special needs who wish to stop at a nearby restaurant or visit a duty free shop. The pager will buzz before boarding commences, reminding passengers it is time to report back to the lounge.
The Serenity Room's current location offers unparalleled views of Heathrow's runways and other Terminal buildings;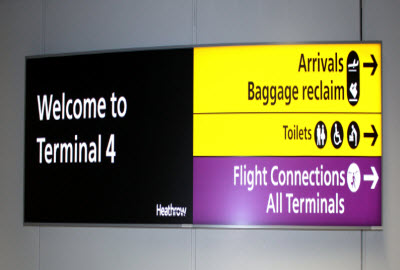 however this is not enough to justify its location. In our opinion the lounge should be moved to a more suitable location. 

 

Accessible toilets at Heathrow T 4 have recently been refurbished and provide full accessibility for wheelchair users. The toilets are equipped with a safety feature that allows doors to open both ways (outward and inward).

 

Signage throughout Heathrow Terminal 4 is clear and accessible, thus making navigation of the terminal easier. Flight information displays are overall

accessible; however we occasionally noticed some glare which may obstruct accessing displayed information to those passengers with mild vision impairment.

 

Heathrow Terminal 4 provides good accessibility to passengers with special needs, with the exception of access to the airside Serenity Lounge. The lounge's relocation is of the essence to provide passengers with disabilities a seamless airport experience and keep the airport's promise of making every journey better.

 

 

About the author

 

Founder and Editor-in-Chief of Reduced Mobility Rights, Roberto Castiglioni is an expert of airport accessibility, management and support procedures of passengers with special needs and air travel related regulations. He has been a frequent flyer for the past three decades and has several years of experience as travelling partner of a passenger who requires assistance.

 

Roberto provides accessibility and access consulting services to airports and airlines. He is a member of the UK Civil Aviation Authority Access To Air Travel Working Group. He is also a member of the Easyjet Special Assistance Advisory Group. Esaag provides Easyjet with strategic guidance and practical advice on the evolving needs of passengers requiring special assistance.