Stansted Airport Ignores Disabled Man After Admitting He Was Denied Assistance
Written by Roberto Castiglioni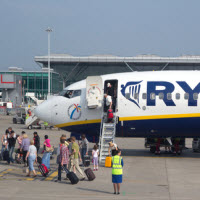 Stansted chooses not to apologize to a disabled person after confirming allegations airport agents breached legal requirements to assist the man.

 

On 17 November 2012, Darren Smith was returning home from a business trip abroad. Upon arriving at Stansted airport he noticed his wheelchair was badly damaged.  "My chair had been so poorly handled that my left hand brake unit which is completely made of metal and secured to the frame by four bolts had been completely twisted and was now completely useless."

 

Unable to safely operate the mobility device essential to go about his daily routine, Darren was directed to the damaged luggage office. "No one within the airport was in the slightest bothered with just how serious this issues was for me and all I was given was a damage report," Darren said.

 

Anti-discrimination law (EC1107/2006) assign airports the duty to provide passengers a replacement wheelchair when a personal mobility device is lost or stolen. Despite his wheelchair being seriously damaged, at no point in time airport agents offered the disabled man a replacement.

 

Reduced Mobility Rights has been following this complaint since March 2013. In May, Stansted management

said they were investigating the complaint with the airline and their handling agent. However, the tone changed at the beginning of June. "I should point out that the airline is wholly responsible for the carriage of any item placed in the hold of the aircraft. For this reason any claim in this regard must be pursued through the carrier."

 

Stansted was reminded that existing law requires the airport to provide a replacement wheelchair, albeit not on like for like basis. The airport was also reminded that the same law requires Stansted to supervise the management of taking wheelchairs on and off board.

 

On 19 June the Airport Procurement Manager Kate Newcombe issued the following statement.

 

"The airline handling agent, on behalf of the airport operator, is solely responsible for the loading and off-loading of all mobility devices. We regularly audit the handling of mobility devices and monitor the overall performance of the agents who operate at London Stansted."

 

However, contrary to what Stansted Procurement manager said, the law says quite the opposite. "Annex I to the Regulation states that airports are responsible for the ground handling of mobility equipment. Airports have an obligation to ensure that this service is correctly managed and should be active in its organisation and supervision."

 

Clearly inspired in rewriting laws and regulation to cover up Stansted's failures, Mrs Newcombe went on providing incorrect information.

 

"It is the responsibility of the service provider to offer a temporary replacement of damaged or lost mobility equipment, albeit not necessarily on a like-for-like basis and as you are aware, the provider at London Stansted is ISS," she stated.

 

Reduced Mobility Rights reported the above statement to the Civil Aviation Authority. Following our note the CAA wrote to Stansted, reminding that the airport operator is responsible for providing a replacement wheelchair if a passenger's wheelchair is damaged or lost. 

 

Caught with their pants down, Stansted replied with haste, acknowledging its responsibilities.

 

Eight months after the incident, and three weeks after admitting to not providing Darren Smith a replacement wheelchair, Stansted airport has yet to apologize to the disabled man, let alone provide him compensation for the damage to his wheelchair.

 

"I was without any braking system on the left side and therefore completely unsafe, they didn't care in the slightest about me or my safety," Darren said. 

 

Mr Smith's case renews the need for the UK to adopt a system of civil sanctions to enforce anti-discrimination

legislation protecting the rights of passengers with disabilities. The Civil Aviation Authority has only criminal enforcement powers. 

 

"We do have enforcement powers, but these are limited to the ability to take a criminal prosecution. Unfortunately, [enforcement] powers are not very flexible or proportionate and make it difficult for us to take action," Dame Deirdre Hutton, Chair of the CAA, said in April 2011. Nothing has changed since. 

 

In spite of hundreds of complaints filed by passengers with disabilities each year, the Civil Aviation Authority has yet to bring an enforcement case to court.

 

About the author

 

Founder and Editor-in-Chief of Reduced Mobility Rights, Roberto Castiglioni is an expert of airport accessibility, management and support procedures of passengers with special needs and air travel related regulations. He has been a frequent flyer for the past three decades and has several years of experience as travelling partner of a passenger who requires assistance.

 

Roberto provides accessibility and access consulting services to airports and airlines. He is a member of the UK Civil Aviation Authority Access To Air Travel Working Group. He is also a member of the Easyjet Special Assistance Advisory Group. Esaag provides Easyjet with strategic guidance and practical advice on the evolving needs of passengers requiring special assistance.