Norwegian, Disabled Friendly Low Cost Airline
Written by Roberto Castiglioni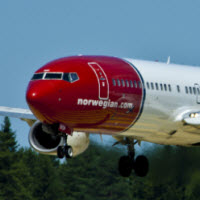 Third largest European Low Cost airline, fast growing Norwegian Air Shuttle ASA is building a reputation of disabled friendly airline. 

 

Currently operating a fleet of 76 aircraft, Norwegian recently purchased 244 more, a statement to the airline's ambitious plans for expansion. In 2002, Norwegian carried 300,000 passengers; in 2012, the Low Cost airlines carried 17.7 million passengers.

 

Voted Europe's best low-cost carrier of 2013 by the SkyTrax World Airline Awards, Norwegian is the first airline to offer high-speed broadband on all 737-800 operated flights within Europe.

 

"Nearly 20 000 customers with special needs flew with us during 2012," a spokesperson for the airline told Reduced Mobility Rights.

 

Norwegian imposes few restrictions on passengers with reduced mobility. "A maximum number of four persons with reduced mobility traveling without a companion per crew member are allowed on board any given flight," the spokeswoman said. 

 

In other words, 16 passengers with reduced mobility (WCHS/WCHC) travelling alone are welcome on a

Norwegian flight.  By comparison, German budget airline GermanWings allows only five passengers with reduced mobility per flight.

 

Passengers with disabilities wishing to travel on a Norwegian without a companion must be able to perform the following tasks unaided: fasten and unfasten the seat belt; retrieve and fit the life vest; wear the oxygen mask; reach an emergency exit; understand safety instructions given by the cabin crew. 

 

"Some time back we had a discussion with the Norwegian Civil Aviation Authority with regards to passengers with reduced mobility who needs to travel with companion," The spokeswoman explained. "We, the Civil Aviation Authority and the Equality and Anti-discrimination Ombudsman agreed on the requirements for a person travelling without and with a companion."

 

The airline stresses that passengers can understand emergency instructions either verbally or visually. This may sound as a minor detail to most; however, it is a major issue for deaf passengers. 

 

Severe hearing impairments often go undetected; however, in the unlikely event of an emergency evacuation deafness is a major safety concern, as in the vast majority of cases emergency instructions are only provided verbally.

 

Norwegian has a limit of five electric wheelchairs/scooters per flight for flights operated with Boeing 737-800 aircraft. The limit lowers to two for flights operated with Boeing 737-300 aircraft. Maximum dimensions of powered mobility devices accepted for carriage must be 140 cm (length) x 114 cm (width) x 85 cm (height), with a maximum weight of 200 kilograms. Electric wheelchairs are carried free of charge.

 

European Law assigns airport operators the responsibility to provide the vast majority of services to

passengers who require special assistance. Norwegian proactively engages with airports to ensure customers receive the best available assistance. "We are happy with the service the airports give our passengers. If for some reason we get some sort of complaint or negative feedback from a customer with regards to the airport service, we will discuss this directly and promptly with the airport," the airline's spokesperson said.

 

Overall, Norwegian has all the numbers to be assessed as a disabled friendly airline. However, there are two areas where the airline has room for improvement. 

 

Norwegian carries guide dogs free of charge. However, the airline cannot accept guide dogs for transport on flights to and from the United Kingdom, as the airline is not authorised by the AHVLA to bring pets into Great Britain under the Pet Travel Scheme. Follow this link to the list of air carriers authorized to carry guide dogs to and from the United Kingdom. 

 

The second area requiring attention is the airline's website accessibility. Disabled friendly airlines provide a "Special Assistance" link from the home page. However, Norwegian customers must first go to the "Customer Services" section, then use the sub menu to access the "Special Needs" section. 

 

Not as bad as the Jet2.com website that requires users to access the "Special Assistance" sub-page from the link "Questions" on the home page, but certainly not as good as the easyjet website, featuring a direct link to the "Special Assistance" directory from the home page.