Qantas Embroiled in Disability Humiliation Row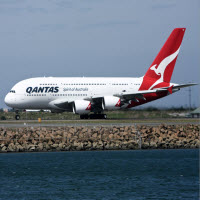 A woman with severe reduced mobility alleges Qantas personnel at Canberra airport humiliated her despite having duly pre notified the airline of her needs.

 

Mrs Anita Gordon reached Canberra airport two hours prior to the departure of her flight to Melbourne. Upon check in her electric wheelchair, personnel on duty told her she could not carry the spare battery and charger of her mobility device onto the aircraft because it was exceeding the weight restriction of 32 kilograms.

 

The woman did not back off; she actually hit back, noting that the airline had been informed of her travel requirements well ahead of her flight. Qantas employees confirmed receiving Mrs Gordon's paperwork.

 

"My first thought was 'Oh God, here we go again. How many times do we have to fight

just to have the privileges afforded those with able bodies. These [the wheelchairs] are our legs and our only hope of movement," Mrs Gordon told David Ellery of The Canberra Times.

 

After a lengthy discussion the case containing the spare battery and the charger was eventually loaded onto the aircraft. However, humiliations were not over yet.

 

"What hit me the most was when, after my ticket was finally issued, a Qantas staff member walked us over to the oversized baggage depot and said we don't normally get people like you," Mrs Gordon said. "I responded by saying 'I didn't know I was a leper." 

 

Mrs Gordon told The Canberra Times having referred the matter to Australia's Discrimination commissioner. Qantas apologised. "We are looking into the matter and have contacted Ms Gordon directly to resolve the issue with her," a spokesperson for the airline said.

 

Australian passengers with special needs endure all sorts of discriminatory treatment on domestic flights. Qantas enforces a limit of maximum two pieces of special equipment per passenger not weighing more than 32 kilograms each. Excess charges at standard freight rates are applied when applicable allowance is exceeded. However, these restrictions are waived on flights from and to the United States, a blatant discrimination towards passengers traveling to other destinations.

 

Qantas owned low cost carrier Jetstar was awarded victory in a discrimination lawsuit brought by

Mrs Sheila King against the budget airline. Mrs King, who has severe reduced mobility, was not allowed on board the aircraft because she was the third disabled traveller travelling with her own wheelchair showing up at check in for that flight. 

 

Federal Court Judge Alan Robertson has ruled in favour of Jetstar, stating the plaintiff omitted to tick the special assistance tab at the time of booking her flight on the airline's website. Judge Robertson also said the 75-year-old disabled passenger was offered a seat on another flight after being denied boarding on the flight she originally booked. Mrs Sheila King was ordered to pay Jetstar's legal costs, capped at AUD 20,000 (GBP 13,500/ USD 20,700).

 
Have you travelled on an Australian domestic flight? Have your say.