Punta Cana Airport: Paradise For Most Passengers, But Not All
Written by Roberto Castiglioni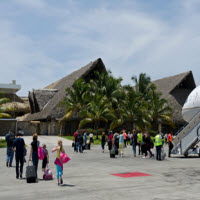 Renowned gateway to Paradise holidays, Punta Cana airport may provide passengers with greater need of assistance a disappointing experience.

"Choosing Punta Cana International Airport makes a Dominican Republic vacation easy to enjoy," boasts the airport's website. Third busiest airport in the Caribbean, Punta Cana airport (PUJ) was used by nearly five million passengers in 2012.

On paper, the airport is fully equipped to cater to the needs of travelers with disabilities: dedicated queues for wheelchairs at arrivals and departures, access ramps for wheelchairs, priority check-in exclusive for passengers with disabilities, the elderly, and those traveling with babies.

Punta Cana International airport has 12 accessible toilets located throughout the terminals, four in the check-in area and four in the arrival lounges, whilst four more are located inside Terminals 1 and 2.

The airport has one high loader specifically designed to help passengers with reduced mobility embark or disembark aircraft. "Customer satisfaction is our priority", a spokesperson for Punta Cana airport told Reduced Mobility Rights.

However, passengers with greater need of assistance like Kevin Burns paint a less paradisiacal picture.

Kevin, who suffered a major stroke at the beginning of 2011, has a severe speech impairment, paralysis in his right arm, and severe reduction of movement to his right leg. "When we reached Punta Cana airport as Kevin had to walk down the steps from the plane onto the runway, a distance and steepness of descent he had not attempted before," Kevin's brother said. As a result, the stroke survivor suffered swelling in his right ankle.

Kevin's return to the UK was no better, as he once again had to walk up the steps to the plane with the help of his wife and brother, as assistance and the high loader were nowhere to be found. Mr. Burns travelled to Punta Cana with Thomas Cook, who later apologized and paid compensation to the unfortunate passenger.

"Airlines are responsible to provide assistance services upon passenger request," the airport's spokeswoman said. "Airlines notify the airport in advance of their need for the wheel chair lift." It is unclear if the airport charges airlines for this service.

The most common complaint among passengers with severely reduced mobility is the unavailability of the high loader, and having to rely on assistance to be manhandled up and down aircraft stairs.

"The worst situations on landing are communicating my needs in a foreign language, which makes me feel scared of being dropped," frequent flyer Martyn Sibley explained in a recent interview with this site. Martyn has Spinal Muscular Atrophy (SMA).

Helping passengers with severe reduced mobility requires specific skills and adequate training. "Since such services are provided by airlines, we are not involved with the hiring or training of the employees involved," Punta Cana airport's spokeswoman said.

"Our dedicated customer welfare team is on hand to discuss all options and advise customers of a range of holidays that suit their needs," a spokesperson for Thomson and First Choice said. "We work closely with Punta Cana airport to ensure all passengers receive the service they require. When a passenger needs special assistance we have a dedicated Thomson and First Choice Airport Controller on hand to offer support."

"We provide training to our operations agents and supervisors in how to work with special needs passengers,

including the blind, wheel-chair users and hearing-impaired passengers," the airport's spokeswoman said.

Once again, reality appears to be different, at least according to Nicky A., a holidaymaker traveling to the Caribbean destination with a family member with special needs. Nicky complained about the lack of pre-boarding for passengers with disabilities. "Why didn't you call for pre-boarding of special needs passengers?" She asked the gate agent. "He looked straight through me as if he did not understand. I looked around for help but there was no one else available." Nicky was also traveling with Thomas Cook.

"Airport staff is trained to direct passengers to the proper entity to best address their complaint- which in most cases is the airline," a Punta Cana airport spokeswoman said. "Passenger complaints at the airport can be addressed to the terminal supervisor who will do their best to assist and, if needed, direct the complaint to the proper authority at the airline."

Thomas Cook was not immediately available for comment.
Do you require assistance when traveling by air? Have you traveled to Punta Cana? Have your say.
About the author
Founder and Editor-in-Chief of Reduced Mobility Rights, Roberto Castiglioni is an expert of airport accessibility, management and support procedures of passengers with special needs and air travel related regulations. He has been a frequent flyer for the past three decades and has several years of experience as travelling partner of a passenger who requires assistance.
Roberto provides accessibility and access consulting services to airports and airlines. He is a member of the UK Civil Aviation Authority Access To Air Travel Working Group. He is also a member of the Easyjet Special Assistance Advisory Group. Esaag provides Easyjet with strategic guidance and practical advice on the evolving needs of passengers requiring special assistance.