Air France Offers Seamless Booking Service To Passengers With Disabilities
Written by Roberto Castiglioni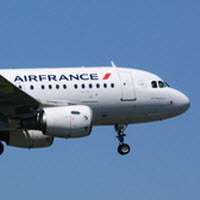 Air France relentless pursuit of innovative solutions to facilitate air travel for passengers with disabilities sets a new benchmark with the launch of Saphir Card.
Easy reservations system, adapted equipment on board, specific training for ground staff and crew, dedicated counters and self-service kiosks are among the innovations Air France introduced over the years to make travel easier for passengers with disabilities.
Many years before European Countries adopted a set of standards to promote access to aviation, Air France was the first airline to set up SAPHIR, the world acclaimed information and reservations service for passengers with special needs. SAPHIR is free of charge and provides personal assistance in 20 countries across the world.
The proactive pursuit of innovative solutions for passengers with reduced mobility and other needs has made Air France the leader in this market segment. Air France chairs the «Reduced mobility» committee of the Association of European Airlines. For several years the airline has sponsored Association for the paralyzed in France), the French Federation of Associations for Cerebral disabilities, the Handisport Federation and many other associations.
The airline set a new benchmark with the launch of the Saphir Card. First of its kind, the card stores the passenger's
needs and requirements. Saphir Card eases the booking process, avoiding the embarrassment of having to describe the different ability or specific need for assistance at each trip. It also prevents mis-communication arising from the wrong information input at the time of booking, ensuring that the most appropriate assistance is always available.

 

Every Air France customer with special needs can request Saphir Card, which is issued free of charge. The card can be used when booking a flight via call canter, at any Air France ticket office, any travel agency and on the airline's website. To date, there are approximately 8,500 Saphir card in use.

 

The seamless booking process is just the first step of a journey the airline wants to make as pleasant as possible. Passengers traveling with personal manual folding wheelchairs are allowed to keep their mobility device in the cabin on all aircraft in the fleet. A leaflet detailing the safety instructions in Braille (in French and in English) is available on board every aircraft. 

 

To facilitate access all Air France aircraft are fitted with seats with movable armrests. On most recent

aircraft, seat numbers feature Braille embossment. All aircraft are equipped with an on board wheelchair to enable passengers to move around while on board. The entire fleet is fitted with accessible toilets.

 
Do you require assistance when traveling by air? Have you flown Air France lately? Have your say.