Italian Civil Aviation Launches App For Passengers With Disabilities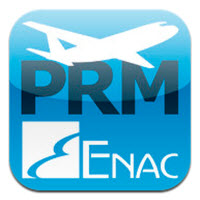 The Italian Civil Aviation (ENAC) is the first European NEB to launch a smartphone application providing guidance to passengers with disabilities traveling by air.

 

Available in Italian, English, Spanish and French, the application provides useful info on disabled passengers rights, as well as guidance on which services are available to passengers requiring assistance, how to book them, and how to complain when services do not meet standards.

 

The app, now exiting its beta testing period, is one of the many initiatives the Italian Civil

Aviation, division for Passengers Rights, has been working on these last few years to facilitate access to aviation.

 

ENAC's Ing Giuseppe Daniele Carrabba spearheaded a number of innovative projects to improve accessibility of information including the Passengers Rights booklet in Braille, and Alitalia's on-board safety cards in Braille.

 

ENAC's head of Passengers' Rights unit, Mrs Cinzia Mariani, chairs the PRM Sub Group of the European Civil Aviation Conference and is a member of the ICAO Facilitation (FAL) Programme.

 

ENAC's Passengers' Rights App is free and available for IPhone and Android. Visit ITunes to learn more about this app.