Are Airlines Fuelling Wheelchair Abuse At EU Airports?
Written by Roberto Castiglioni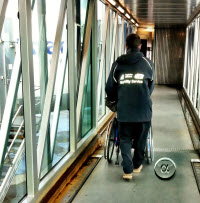 U.S. public is accustomed to debates on passengers abusing wheelchair services at American airports; however, wheelchair abuse is a phenomenon affecting EU airports as well.

 

There are significant differences in the ways Americans and Europeans abuse services for people with disabilities. In the U.S. abusers tend to use wheelchairs services to fast-track security checkpoint lines at departure, whereas in Europe people abusing these services request them at arrival to make their way from the aircraft through immigration and customs. 

 

The phenomenon is known in America as "Miracle Flights", where scores of allegedly impaired people at departure walk off their flight unaided at arrival. In Europe, abusers are nicknamed "Runners", since they tend to get up from the wheelchair and walk away as soon as they exit customs.

 

Having recently audited 18 European airports, seven of which among the 10 busiest in Europe by

total passenger traffic, we have become fully aware of the extent of the problem and its implications. Widespread wheelchair abuse is having devastating effects on services EU airports are required to provide passengers with disabilities.  

 

More often than not, "runners" arrive at EU airports without the required pre-notification. European law 1107/2006 states that pre-notification is an essential element to ensure appropriate assistance is provided to passengers with special needs. Passengers are asked to pre-notify the airline of their assistance requirements at least 48 hours before travelling.

 

However, EU legislation mandates airports to make all "reasonable efforts" to provide assistance to not pre-notified passengers. To make things worse, "runners" are known to arrive in scores. A handful of non-European airlines are responsible for well above 80% of all not pre-notified passengers. 

 

The (not uncommon) simultaneous arrival of 50 not pre-notified "runners" triggers a knock on effect on assistance services. Pre-notified passengers are the ones paying the highest price, having to experience severe delays.  

 

"We waited for 15-20 minutes, perhaps more. Nobody came to assist me.  My wife and I both became somewhat agitated," passenger Kevin Watson recalls.

 

"On return, we were picked up by wheelchair promptly from the plane, and transferred via buggy to a waiting room," passenger Jackie Stephenson said. "We had an endless wait at a holding area." 

 

"I had a dreadful 15 hour experience in July and am still getting over it," passenger Teresa Clayton-Sanderson shared.

 

However, not all passengers arriving without pre-notification are "runners". Some airlines simply

cannot be bothered to send pre-notification messages across to airports. For example, Air India requires passengers with disabilities to notify the airline of their special needs at the time of booking. However, the airline is renowned for not sending pre-notification messages to airports. 

 

To further complicate things, the vast majority of Air India passengers simply require a meet and assist type of service. However, this service is not complimentary, therefore passengers are steered to request free wheelchair assistance. Airlines like Air India negatively affect delivery of assistance to passengers with disabilities.

 

Wheelchair abuse must be tackled to ensure those entitled and in need of assistance are supported in the most appropriate manner. As leading advocate of access to air travel, we have listened to airport operators and passengers, and are ready to proactively pursue an immediate solution to the problem by introducing changes that should not require a revision to the existing legislation. 

 

About the author

 

Founder and Editor-in-Chief of Reduced Mobility Rights, Roberto Castiglioni is an expert of airport accessibility, management and support procedures of passengers with special needs and air travel related regulations. He has been a frequent flyer for the past three decades and has several years of experience as travelling partner of a passenger who requires assistance.

 

Roberto provides accessibility and access consulting services to airports and airlines. He is a member of the UK Civil Aviation Authority Access To Air Travel Working Group. He is also a member of the Easyjet Special Assistance Advisory Group. Esaag provides Easyjet with strategic guidance and practical advice on the evolving needs of passengers requiring special assistance.