Warsaw Chopin Airport Accessibility Report
Written by Roberto Castiglioni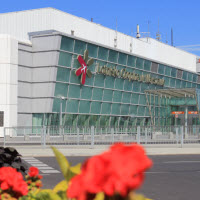 Featuring good assistance services and improving facilities, Warsaw Chopin airport is on course to position itself as disabled friendly airport.
Poland's main hub greatest challenge is to resolve the crucial issue of poorly accessible means of travel from and to Warsaw. For example, some of the buses connecting the airport to the city centre are accessible; however the vast majority of bust stops are not. 
The recently inaugurated train link is accessible; however, the journey from the terminal buildings to the train station can be nightmarish when on wheelchair, especially during inclement weather. Things will improve towards the end of 2014, when access to train and bus station will become available from inside the terminal building.
Reduced Mobility Rights believes Polish politicians should step out of their comfortable limos, take the seat in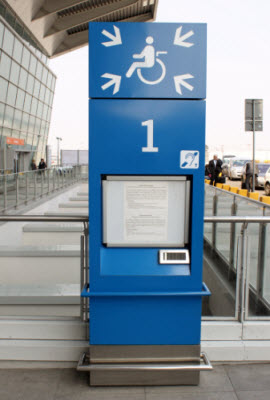 wheelchairs, and make their way from town to Chopin airport; probably the easiest way to make them acknowledge the need for immediate action to ensure Polish people with disabilities can make use of their right to fly with dignity.
Reduced Mobility Rights visited Warsaw Chopin airport on 23 April 2013. Upon arriving from London, we met with Michal Hofman, head of Passenger Services, and Maciej Główka, PRM services manager.
Little over 42,000 passengers with disabilities used WAW services in 2012, 0.3 percent of all passengers. This is one of the lowest numbers in Europe, where the average across member states is 0.9 percent. Lack of accessible public transport connecting Warsaw to Chopin airport and financial marginalization of the elderly in Polish society are the top factors behind such low numbers.
We begin our visit from the airport's curb side. There are only two drop off bays for private vehicles. WAV Taxis (not available on call, must pre book in advance), and private cars are the most popular means of transport passengers with disabilities use to get to Chopin airport. There are blue badge reserved bays in the car park, which is quite distant from the terminal building. 
There are three calling columns outside the terminal building. These old generation columns will be replaced by modern ones in the near future. There are no PRM meeting points inside the terminal building; instead, every information point is manned personnel trained to assist passengers with disabilities. However, information desks are not accessible. Reduced Mobility Rights recommended introducing two level counters to make these desks accessible.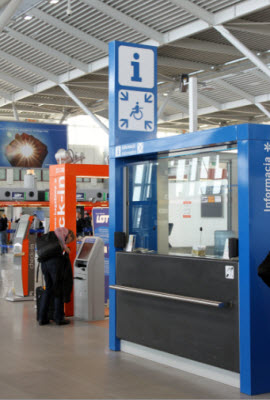 All information desks feature induction loops for the hearing impaired. Immigration and Customs desks and stations are also equipped with induction loops.

 

There are no preferential security checkpoints at Chopin airport. "I get the impression that not all security checkpoints staff are adequately prepared to perform screening of people in wheelchairs and are sometimes tactless and inefficient, although this has been getting better lately," Sławomir Piechota, Member of the Polish Parliament recently noted.

 

There are accessible toilets throughout the terminal building. While assessing them we were gladly proven wrong as to their alleged insufficient width. First impression on width made us doubt their accessibility; however Maciej Główka sourced a wheelchair and proved our doubts unfounded.

 

Most airlines make use of WAW air bridges, making access to aircraft seamless. Some regional and low cost airlines use stands. Chopin airport operates a fleet of two ambulifts and one accessible minivan to help passengers with reduced mobility to and from aircraft parked at remote stands.

 

During our visit we took note of on-going terminal renovations, due for completion in 2014. We look forward to visit Chopin again after the refurbished terminal is opened to the public to take a closer look at the works that should improve accessibility.

 

Assistance agents are the pillar supporting delivery of good service to passengers with

disabilities. As we toured the terminal, we came across a number of passengers with reduced mobility being helped and were positively impressed by the professionalism and genuine attitude we witnessed. Recruiting and training are without a doubt well looked after at Warsaw Chopin airport. 

 

"The vast majority of passengers arrive at the airport in a very emotional state, stressed and fearful," Peter Spurway, VP Corporate Communications at Halifax Airport Authority (Canada) said at PTE2013. "The airport's challenge is to welcome passengers providing them a genuine sense of comfort and safety."

 

While Chopin airport is working hard to ensure its facilities will soon meet expectations, assistance agents are already delivering what passengers with disabilities need to ease the emotional state airports usually trigger.

 

About the author

 

Founder and Editor-in-Chief of Reduced Mobility Rights, Roberto Castiglioni is an expert consultant of PRM regulations and disabled passengers support procedures, and has personal experience as travelling partner and carer of a passenger with reduced mobility.

 

Roberto is a member of the UK Civil Aviation Authority  Access To Air Travel Working Group. He is also a member of the Easyjet Special Assistance Advisory Group. Chaired by David Blunkett MP, the independent advisory group esaag provides Easyjet with strategic guidance and practical advice on the evolving needs of passengers requiring special assistance.