Sofia Airport Accessibility Report
Written by Roberto Castiglioni
A recent visit to assess accessibility of Bulgaria's main airport in Sofia provided clear indications as to the state of national disability awareness.
Overall implementation of disabled people rights in Bulgaria makes accessibility and assistance services for disabled passengers at Sofia airport a defining moment for a country still struggling to come to terms with acceptance of disability.
On 3 and 4 April 2013, Reduced Mobility Rights visited Sofia International airport, Bulgaria's main airport, to assess accessibility and PRM assistance services.
The state owned airport served 3, 5 million passengers in 2012. The airport's own assistance service provided support to 16,000 disabled passengers in the same period.
We meet Sofia's PRM manager Valentina Peneva and her deputy, Vera Jekova, upon disembarking from our flight. The PRM assistance minibus pulls up at the stairs of the aircraft and whisks us away to Terminal 1, Sofia airport's older building. First opened at the end of 1937, Terminal 1 underwent substantial renovations in 2000. Wheelchair ramps across the terminal building warrant accessibility. There are clearly marked PRM reserved areas by the luggage belts; however, respect for those areas is not enforced.
There are a number of toilets marked as accessible. Accessibility to these facilities cannot be taken for granted, and may be difficult because of space limitations, door handles, and doors opening forward.
Notably there is no meeting point per se in Sofia airport's terminal buildings. However, there are clearly marked calling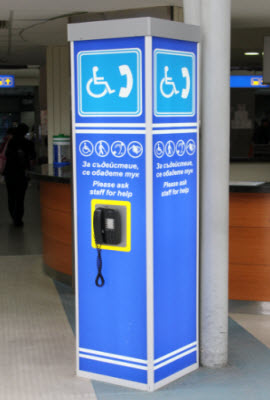 points for disabled passengers; in Terminal 1 these are located at the entrance and by the information desk.
Getting to and from Sofia airport by WAV Taxi requires pre booking, as there is only one taxi company in Sofia providing this service.
At the end of our walkabout of Terminal 1, currently used by low cost carriers, we hop on the airport shuttle to Terminal 2. The shuttle is a common 9 seats minibus. The shuttle is not accessible.
Terminal 2 was opened to the public at the end of 2006. There are clearly marked disabled bays to be used for drop off and pick up of passengers by the main entrance to the building. There are calling columns by the main doors of Terminal 2. However, most passengers with disabilities usually inform assistance service of their presence when they arrive at check in desks, Valentina Peneva explains.
There are no dedicated lounges for passengers with disabilities at Sofia airport. Passengers are usually taken directly to the gates or, time permitting, to one of the eateries located in the departures hall. Terminal 2 has 7 air bridges. However, a fleet of two ambulifts provides for passengers with flights arriving and departing from stands. A third ambulift will enter service later this year.
We hop on the ambulift to follow an agent sent to meet arriving passengers. The passengers are seamlessly helped onto the ambulift and onward to the terminal building. As we follow the passengers make their way through a priority security lane, something totally unexpected catches our attention.
The passport control officer asks a passenger sitting in a wheelchair to stand up. Due to physical impairment, the elderly fails to comply with the officer request. The situation triggers an argument between the assistance agent and the border control officer.
Throughout the day, we will observe similar unorthodox conduct among customs officials and security checkpoint officers as well. Thankfully, passengers with disabilities can rely on the support of assistance agents to overcome embarrassing situations.
Toward the end of our walkabout of Terminal 2, we draw our host attention on three accessibility issues requiring immediate action.
Entrance to accessible toilets is hampered by a wooden changing basin located to the left of the entrance. Cleaning ladies do not fold back the basin after cleaning it. The basin is difficult to fold for an able body, nearly impossible for a person sitting in a wheelchair.
Signage inside Terminal 2 is inadequate and, in one particular example, can lead to confusion. Arriving passengers often end up at the wrong passport control area. Others wander off, without finding their way to the lower floor, where the right passport control areas and luggage belts are. Finally, flight information monitors are not accessible.
We sit down with Valentina and Vera to go over PRM statistics and agents' training. Sofia airport has one of the highest pre notification percentages in Europe. 74% of passengers with disabilities pre book their assistance. EU average pre notification mark sits at 60%.
This percentage could easily reach the 90% mark if all airlines would comply with pre notification requirements and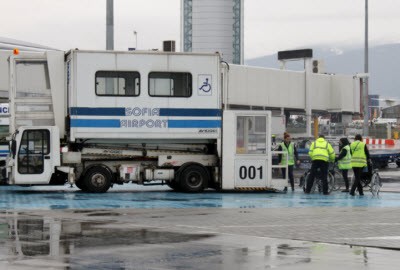 deliver assistance requests. Notably, in Sofia's case, culprits belong to the well-known handful of carriers whose failure to communicate critical information triggers assistance delays across European Union's airports.

 

Assistance agents training meets EU standards and is carried out by a reputable training firm specializing in PRM support training. English as a second language is required; however, true knowledge is quite similar to that of Italian assistance agents.

 

As we walk through the check in area, we come across blind frequent flyer Daniela Dimitrova. Daniela is director of Dark Operations at Dialogue Social Enterprise, a company offering social awareness exhibitions and workshops while creating jobs for disadvantaged people across the world.

 

Daniela is a seasoned traveller and has extensive experience with support services across the globe. "I still cannot wrap my head around the fact that in the United States they force me to seat in a wheelchair alleging liabilities issues" she says. "Charles de Gaulle in Paris can be an irritating experience, as I often end up being handed over from agent to agent several times when connecting there."

 

Daniela's opinion of assistance in Germany is clouded by a recent unpleasant experience. "They are impeccable, however I feel treated as if I were a package to handle with care rather than a human being." Her opinion about assistance at airports in the Far East is the opposite of Germany. "I love it there, I am treated with care, compassion, and dignity, like every person should be treated."

 

Daniela's preferred experience is with support agents in the south of Europe. "You have to love Italians.

Seconds after greeting you they start telling you the story of their lives and within minutes they make you feel as family." She says. "Bulgarian agents are the best for me; they know me, they treat me as nobody else does. I wish everybody would treat me like agents here at Sofia airport do."

 

According to official data, there has been no complaint ever filed against Sofia's PRM services since 2008. In fact, Bulgarian passengers often praise assistance agents, and rate their performance higher than that of agents at other European airports.

 

On first thought, it would be easy to think these feedbacks are somehow manipulated. However, as our visit unearthed, praises represent sincere appreciation shown towards assistance agents' compassion and dedication to understand and help passengers with disabilities, which is magnified by contrast with the lack of empathy and derogatory behaviours shown by some passport control officers, customs and security checkpoint officials.

 

More importantly, this indicates that past the happy island of compassion and understanding of PRM services at Sofia airport, significant parts of Bulgarian society are still struggling to understand and accept disability,  a stark reminder that disability awareness campaigns must be put in place with haste.

 

On the second day of our visit of Sofia International airport we sit down with Silvia Todorova,

chief expert training manager at SOF. During day one of our visit we learned that passport control officers, security checkpoints officials and customs officials last underwent disability awareness training in 2008.

 

Silvia Todorova confirms disability awareness training programs for all frontline staff at Sofia airport have been crafted, and are now with the Bulgarian Civil Aviation Authority for approval. Silvia hopes courses can start as early as May this year.

 

As we are preparing to catch our flight to London we ask Valentina Peneva how she envisions the future of PRM services at SOF. "I think we have built a good house on solid foundations," she says. "We can now further improve it by promoting communication with colleagues at other airports to share experiences and identify better ways to support passengers with disabilities in the years ahead."

 

About the author

 

Founder and Editor-in-Chief of Reduced Mobility Rights, Roberto Castiglioni is an expert consultant of PRM regulations and disabled passengers support procedures, and has personal experience as travelling partner and carer of a passenger with reduced mobility.

 

Roberto is a member of the Disability Working Group of the Civil Aviation Authority. He is also a member of the Easyjet Special Assistance Advisory Group. Chaired by David Blunkett MP, the independent advisory group esaag provides Easyjet with strategic guidance and practical advice on the evolving needs of passengers requiring special assistance.