Paris Charles de Gaulle Accessibility Report
Written by Roberto Castiglioni
Managing accessibility and access services in the world's seventh busiest airport in passengers served can be a challenge as we learned during the visit of Paris Charles de Gaulle. 
Reduced Mobility Rights assessed Paris Charles de Gaulle accessibility and access services on 20 March 2013. Charles de Gaulle airport is owned and operated by Aeroports De Paris, a publicly traded company. However, the French Government owns 52% of the shares of ADP.
We reach Roissy after a short flight from London Heathrow airport. Roissy is the other common name identifying Charles de Gaulle airport. In 2012, little over 315,000 passengers with disabilities made use of the airport's access services. Because of its size, the airport hires three different access providers, who employ approximately 850 access agents.
As we arrive we meet Sonia Gacic-Blossier of ADP Roissy Media Relations, Terence Harker, deputy General Manager of Charles de Gaulle terminal operations, and the PRM managers for Terminals 2A and 2F.
Unlike previous assessments, today's visit must take into consideration a significant cultural difference between France and the rest of Europe. French disabled associations persist in defining persons with disabilities as "ordinary people". Normally perceived as a minor detail, this different philosophical approach has far reaching implications on accessibility and access services.
In a nutshell, the concept that a disabled person is not different from any other implies that there should be no difference of arrangements, or preferential treatments. While appreciating the different perspective on inclusion, passengers with disabilities have distinct requirements when traveling by air and different services are needed to deliver quality access.
We begin our walkabout in the older terminal building, 2A, from the airbridge through passport control and baggage hall.
Passengers on wheelchairs will need to make use of elevators due to frequent changes of levels from the airbridge to the luggage delivery area. Elevators are accessible and strategically located to provide faster movement.
There are dedicated areas in the proximity of each luggage belt in the baggage hall. These areas are clearly marked, and unauthorized access is enforced by airport security. Passengers with disabilities who need assistance to retrieve their luggage from the belts can ask for help at the information desk located in the middle of the baggage hall. The desk is on split levels, one lower for wheelchair users. This is a signature feature of all information stands and PRM reception areas throughout the airport terminals.
Because of on-going refurbishments at 2A, we make our way to the newer terminal, 2F, which is exclusive to Air France and other Skyteam carriers.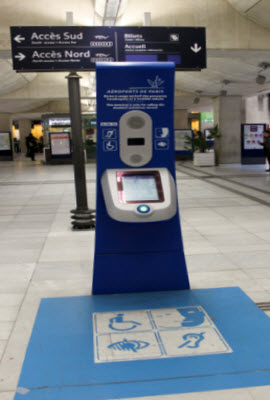 Entrance to the train station is located midway between terminals. The station can be accessed via elevators. There, we come across one of the 26 special assistance calling points scattered around Charles de Gaulle airport. All calling points feature a video link, and hearing aids for the hearing impaired.
We reach terminal 2F, where we see the PRM registration and waiting hall. The room is brand new. Notably, the lighting of the waiting lounge is crafted to make the atmosphere relaxing and pleasant for passengers with photosensitivity.
It is again time to clear passport control and security checks. Both areas feature dedicated lanes for disabled passengers. 
As we walkabout terminals, we observe remarkably little signage to direct disabled passengers. This is not the airport's oversight, rather the visible demonstration of the French cultural approach to disabilities. We encounter the same issue with toilets. All toilets in Roissy Charles de Gaulle terminals are accessible; however, common signage indicating disabled bathrooms is limited, almost hidden from direct sight. 
Reduced Mobility Rights believes that a multicultural environment such as Roissy Charles de Gaulle should avoid the peculiar national style, and make greater use of global signage. This global vision should not be limited to identify accessible toilets, but also help passengers with disabilities reach dedicated areas. By example, we think of the difficulty a deaf-mute traveller may encounter while walking inside Paris Charles de Gaulle. Notably, this condition goes undetected in most cases as passengers are usually hugely independent, therefore reluctant to seek assistance.
As the tour ends, we have time to go over access services. One of the essential elements of good service is training. Charles de Gaulle airport trains all airport personnel. However, access agents training falls under the mandate of each of the three service providers. As a result, supervising individual training compliance is all but a daunting task.
"In 2012, we had a complaint rate of 0.1%," Sonia Gacic-Blossier explains. "This leaves us with room for improvement; however, satisfaction surveys show that 98% of all passengers with disabilities are satisfied with the assistance they received."
Access agents' attitude is a significant hurdle in French airports. A frosty welcome is likely to make the arriving passenger
anxious and stressed. While larger airports like Charles de Gaulle work hard to control and possibly eliminate the problem, this is not the case in smaller regional airports, like an accessible tourism operator recently told Reduced Mobility Rights.

 

"It bothers me that regional airports in this part of France that heavily relies on tourism provide such poor access services," says Jacqui Alban, owner and manager of I Need A Holiday Too, a resort that provides wheelchair accessible and supported holidays in La Roche Derrien, Brittany. "We escort our guests to and from the local airport, Dinard Brittany, where inevitably check in and access agents welcome our guests with disabilities rolling their eyes as if they were dealing with a pain in the rear rather than a human being."

 

Breakdown in communication between airlines and airports is the leading cause of poor pre-notification percentages. While Europe's average notified assistance requests stands at 60%, Charles de Gaulle endures a slightly worse position.

  

Pre-notification of special assistance request is essential to guarantee passengers with disabilities enjoy

seamless travel by air. Unfortunately, the aviation industry has yet to adopt common standards, thus burdening airports with handling high numbers of unforeseen support requests. The big loser in this vicious equation is the disabled passenger, who can be deprived access to quality services.

  

Customer satisfaction should always be the top priority of carriers and airports alike. One easy way to improve passengers' travel experience is to reduce the percentage on non-pre-notified assistance requests.

 

In this respect, Reduced Mobility Rights is spearheading pilot programs to achieve higher pre-notification requests. In collaboration with selected airlines and airports, Reduced Mobility Rights analyses current protocols, provides strategic advice and supervises the implementation of corrections.

  

Passengers are also required to do their part, notifying airlines of their individual needs at least 48 hours prior to the date of travel. Requests must be detailed as possible, to allow airports and carriers to make appropriate arrangements.

  

At the end of our visit we sat down with Franck Goldnadel, Roissy Charles de Gaulle managing director. Mr Goldnadel stressed how Charles de Gaulle airport management consider working hand-in-hand with representative associations and airlines of the utmost importance to improve the travel experience of all passengers, especially vulnerable ones.

 

About the author

 

Founder and Editor-in-Chief of Reduced Mobility Rights, Roberto Castiglioni is an expert consultant of PRM regulations and disabled passengers support procedures, and has personal experience as travelling partner and carer of a passenger with reduced mobility.

 

Roberto is a member of the Disability Working Group of the Civil Aviation Authority. He is also a member of the Easyjet Special Assistance Advisory Group. Chaired by David Blunkett MP, the independent advisory group esaag provides Easyjet with strategic guidance and practical advice on the evolving needs of passengers requiring special assistance.