Accessibility per se is not the issue at Tallinn airport; however, a recent assessment unveils room for improvement in different areas.
Serving little over 2, 2 million passengers in 2012, Estonia's main airport provided assistance to little over 3,000 passengers with reduced mobility in the same year. Single runway Tallinn airport, also known as Lennart Meri in honour of Estonia's independence leader, went through significant growth in 2008.
Tallinn is the hometown of Siim Kallas, Estonian politician currently serving as Vice President of the European Commission and European Commissioner for Transport. 
Reduced Mobility Rights visited Tallinn airport on 11 March 2012. During pre-assessment checks, we noticed
Tallinn airport does not post PRM quality standards (service level agreements) on its website. During the visit on site, we could not find a trace of quality standards either. This is an area requiring immediate action as publication is a mandatory requirement of EU Regulation 1107/2006.
Upon arriving at Tallinn airport, we met Asko Kivinuk, Terminal Services Manager. Like in prior visits, we started our evaluation from outside the terminal.
WAV taxis are not commonly available at Tallinn airport. Passengers requiring wheelchair accessible transportation need to make arrangements prior to arriving at the airport. 
There are disabled bays close to the entrance of the terminal. There is a calling point located in the proximity of the bust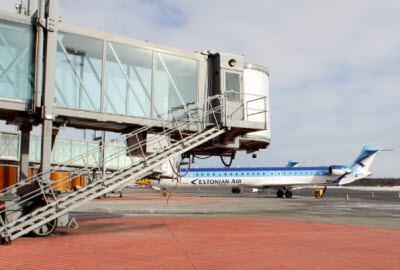 stop right outside the entrance to the departure hall. Check-in desks are on the first floor, accessible via elevator. 
Check-in desks are the most common meeting point for passengers requiring assistance. The airport employees 20 access agents. Disabled passengers are helped through the security checkpoint onto the departures area. PRM passengers normally wait for their flight in one of the restaurants in the departures hall. Accessible toilets are available throughout the terminal building. However, door handles are not disabled-friendly, and may result difficult to operate.
There is one ambulift in use at Tallinn airport. This vehicle is used to assist passengers with reduced mobility on and off budget airlines not making use of air bridges. On occasions, it is also used to help disabled passengers onto charter flights. Tallinn is becoming a popular port of call for cruise liners. In 2012, 16,000 passengers used the airport upon arriving, or embarking their cruise.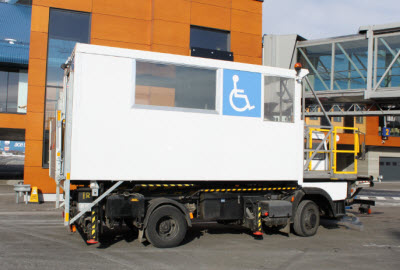 The charter airline cruise operators use flies 747 Jumbo Jet aircraft. The ambulift reaches its operational limit when helping passengers board and deplane this aircraft. Although not often used, having only one ambulift in use is insufficient to guarantee continuity of service, Reduced Mobility Rights recommends Tallinn airport to make provision for the purchase of a second ambulift.
Tallinn airport terminal building is far from monumental; therefore assistance is not a problem. However, there are no specific features for blind or deaf passengers. There is no dedicated lounge, or waiting area, for disabled passengers.
Access agents have to complete a mandatory two day course before being cleared for duty. The course covers basic PRM awareness, support techniques, and first aid. Agents meet with experts from disabled associations during the course, who coach them on specific ways to help disabled passengers. 
Agents are required to speak Estonian, Russian, and English. Agents are usually college students
who sign up for the job as the first work experience. This is reason for high turnover, the main challenge Tallinn airport faces with PRM assistance services.
Reduced Mobility Rights believes Tallinn airport management is on course to fix some of the problems found. However, action cannot be delayed, and access facilities require attention if this airport is to guarantee inclusion while meeting its plans for expansion.
About the author
Founder and Editor-in-Chief of Reduced Mobility Rights, Roberto Castiglioni is an expert consultant of PRM regulations and disabled passengers support procedures, and has personal experience as travelling partner and carer of a passenger with reduced mobility.
Roberto is a member of the Disability Working Group of the Civil Aviation Authority. He is also a member of the Easyjet Special Assistance Advisory Group. Chaired by David Blunkett MP, the independent advisory group esaag provides Easyjet with strategic guidance and practical advice on the evolving needs of passengers requiring special assistance.