Dublin Airport Accessibility Report
Written by Roberto Castiglioni
Ireland's main airport, Dublin International provides disabled passengers with a variety of unique accessibility solutions and excellent access services.
Operated by the Dublin Airport Authority (daa), Dublin airport served little over 19 million passengers in 2012. The airport's access services provider, OCS helped over 160,000 disabled passengers in 2012.
Reduced Mobility Rights visited Dublin International airport on 5 March 2013. 
A quick flight from London Gatwick takes us to Dublin, where we land just before 8 AM at Terminal 2, the newer of Dublin's two terminal buildings. Upon arriving, we meet Helen O' Connor, daa PRM Services Officer, Derek Murphy, OCS Services Manager, and Joan Murphy, OCS Trainer.
The early arrival presents as perfect reason to sit down for a cup of coffee and a short briefing. Dublin airport PRM traffic percentage is slightly above European average so is its pre-booked traffic, approximately 70%. These numbers relate to the nature of the largest group of disabled travellers making use of the airport's access services. PRM traffic peaks toward the end of the summer at Dublin. This is when religious tourism is at its height. "At times, we have 6 or 7 aircraft leaving within minutes from each other toward Lourdes," Derek Murphy explains.
Every year, 5 million Catholics make their pilgrimage to Lourdes, a small town at the foothill of the Pyrenees Mountains in south western France.
We begin our accessibility assessment from Terminal 1, the older of the two buildings in use at Dublin airport.
Passengers arriving by air who require WAV Taxis are recommended booking the service in advance to ensure the appropriate vehicle is available in a timely manner. However, WAV Taxis can also be sourced with the help of daa Taxi Rank agents.
The meeting point located at the right entrance of Terminal 1 is where access services begin. Passengers get to the area directly, or from the airline's check in desk. Passengers traveling to Dublin by bus or private car can call for assistance using one of the 26 calling points available at all key locations of the airport.
Once registered at the meeting point, passengers who require assistance are helped through security. Once cleared security, passengers can ask to be taken to their departure gates, or helped to wait for their boarding time at one of the restaurants and eateries located in the departure halls.
Passengers traveling with a companion can request to make use of an airport wheelchair, and leave it at the departure gate.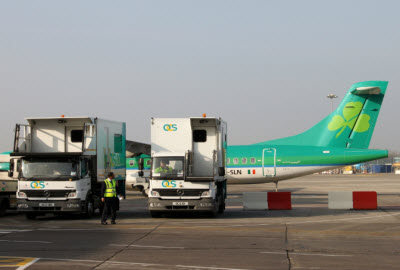 Reaching remote gates of pier D at Terminal 1, the gates commonly used by budget airline Ryanair can be a challenge for passengers with reduced mobility because of distances involved. Passengers unable to walk long distances unaided are strongly advised to request wheelchair assistance, or make use of the access courtesy buggy always available at the beginning of the pier.

  

OCS operates its fleet of 3 ambulifts and a number of specially equipped minibuses from Terminal 1.

  

The new Terminal 2 is within walking distance from Terminal 1. Officially opened to the public in November 2010 Dublin T2 is home of the US pre-clearance immigration facility, one of two such facilities in use in Europe. Terminal 2 features an array of signature accessibility solutions; accessible check-in desks and counters, lower level flight information display screens, a disabled shower facility, a guide dog relief area, and 3 privacy rooms.

  

The three privacy rooms, also called dignity rooms, where built with the needs of passengers

requiring quiet locations in mind. Dublin airport is at the forefront of Europe's airports in providing advice and solutions to passengers who require assistance for family members with autism. The airport features on its website a guide on travelling with autism (opens new window). The guide was written in collaboration with Irish Autism Action.

  

Excellent accessibility and unique facilities translate into high customer satisfaction. This is mirrored by the low number of complaints, 17 in 2012, well below the average European physiological threshold.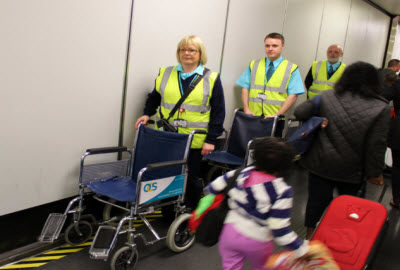 In the afternoon, we sit down with Joan Murphy, to review training of access agents. OCS does not cut corners when it comes to training. Every agent must undergo a mandatory week long training session, followed by two week "shadowing" on the job. Training courses are comprehensive, and ensure that every agent is fully qualified to work his or her tasks. 

 

There is no room for mistakes at Dublin airport. The software in use by OCS automatically ensures that each assistance request is assigned to an agent trained and qualified for it. However, this system may fail when airlines give the wrong assistance code, or omit to notify the assistance request.

 

In the unlikely event the wrong assistance code is assigned to an access request, agents are trained to quickly assess the situation and work out the best available solution with the dispatcher or supervisor on duty.

  

With English being the Passepartout language, OCS does not require its frontline agents to learn a second

language. However, a number of access agents are fluent in a second language. When needed, passengers can make their translation requirements known at the special assistance meeting points, or via calling points.

  

At the end of the visit, we make our way to our departure gate. In the walkway between Terminal 1 and Terminal 2, we come across a group of six hearing impaired ladies struggling to understand the way to their departure gate. 

 

Ironically, we had mentioned the problems deaf passengers encounter in airport terminals at the beginning of our visit. This is not a problem specific to Dublin airport, rather a wider issue across all European airports. 

 

Reduced Mobility Rights, in cooperation with deaf frequent flyers, is crafting a series of solutions to tackle this problem.

 

Are you disabled? Have you recently used access services at Dublin airport? Send us your comments and experiences using the contact us form or use Reduced Mobility Rights Facebook Page.

 

About the author

 

Founder and Editor-in-Chief of Reduced Mobility Rights, Roberto Castiglioni is an expert consultant of PRM regulations and disabled passengers support procedures, and has personal experience as travelling partner and carer of a passenger with reduced mobility.

 

Roberto is a member of the Disability Working Group of the Civil Aviation Authority. He is also a member of the Easyjet Special Assistance Advisory Group. Chaired by David Blunkett MP, the independent advisory group esaag provides Easyjet with strategic guidance and practical advice on the evolving needs of passengers requiring special assistance.