Malpensa Quality Access Services, Bizarre Accessibility
Written by Roberto Castiglioni
Milan's largest airport, Malpensa showcases quality access services for disabled passengers, partially hurdled by bizarre accessibility choices.
Serving 18, 3 million passengers in 2012, Milano Malpensa airport is the largest airport serving the financial capital of Italy. The airport's access services assisted 70,548 disabled passengers in 2012.
Reduced Mobility Rights visited Milan Malpensa Terminal 1 and 2 on 19 February 2013.
Eccentricity is the common denominator in Italian politics, something one can feel and touch at Malpensa airport. Some of the problems we spotted during the accessibility analysis are directly linked to the odd decisions politicians made about Malpensa's role in Italian aviation.
Travellers familiar with the Italian landscape know that Italian politicians are reluctant to draw compelling long term decisions, rather focus on moves that satisfy short term needs.
Unlike Milan Linate, Malpensa airport features a state-of-the-art railway link to the heart of Milano. Nevertheless, Italy's ailing flag carrier Alitalia moved the heart of its Milan's operations from well connected, double (a third due for completion early 2015) runway Milan Malpensa to poorly linked, single runway Linate airport.
Only an Italian politician can see the logic in such choice, especially when considering that Milan will host the World Expo 2015!
Having recently assessed Linate's accessibility and access services, we understand political "stop and go" decisions about Malpensa's future are the direct cause for some of the airport's strange accessibility features.
Malpensa Terminal 2, the oldest building, is now home to easyjet flights only, as charter flights have been moved to
Terminal 1.
Accessibility to Terminal 2 is standard, with one area where immediate action is required.  There is only one Sala Amica (special assistance lounge) at Terminal 2. The lounge, originally located before the security check point, has recently been moved past checkpoints, in the departure hall area.
However, at its current location, the lounge does not have an accessible toilet. This is a serious issue that requires immediate action.
At departure gates E, we found a disabled toilet that features an accessible manual sliding door; however, once inside the restroom washbasins area, a person on wheelchair may find it quite difficult as doors to the toilets open forward.
There are no gates at Terminal 2, where all flights arrive and depart from remote stands. This is not an issue for disabled passengers as Malpensa airport operates a fleet of 8 ambulifts and 3 special buses to assist passengers with reduced mobility on and off aircraft.
Just like at Milan Linate, access services at Malpensa Terminal 2 are operated by two service providers, the in-house SEA Servizi and Consorzio Lepanto. Training is also the same at both airports. All access agents must complete a mandatory 7 day, 56 hours course before being cleared for duty.
We go from Terminal 2 to Terminal 1 using the accessible free shuttle connecting the two. The shuttle features a manually operated ramp and plenty of room for wheelchair users. Passengers arriving at Malpensa airport via railway and leaving from Terminal 2, or vice versa, must make use of this shuttle as the railway station is located under Terminal 1.

 

Just like at the older terminal, the asset of access services at Terminal 1 are frontline agents. Accessibility to Terminal 1 check-in and arrival areas from the railway station and nearby park garages has significantly improved ever since the launch of new, wider elevators. However, access to the car park disabled bays can be somehow difficult because of the standard size of the door leading to the car park.

 

The main Sala Amica in the check-in area is located at the far right of the Terminal building, the first point of

entry to Terminal 1 for passengers traveling by car or taxi. The core of access operations, where dispatchers direct support requests, is located here.  Malpensa airport handled in excess of 70,000 support requests in 2012, 65% of which pre-booked.

 

Access agents take passengers from the check-in area to a dedicated security checkpoint. Once cleared security, passengers are either taken to an eatery, or the Sala Amica of departures A. Passengers traveling outside the Schengen area are helped through passport control, then taken to a restaurant, or to Sala Amica B or the newly opened C.

 

We visited both Sala Amica B and C. Both areas are roomy, albeit a tad frugal. Both have plenty of seating and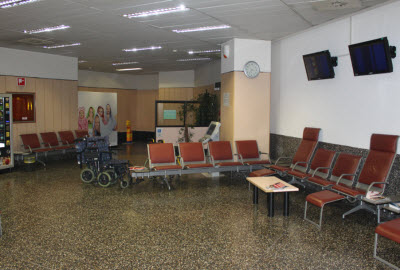 accessible toilets; however, the manually operated doors open forward, making it difficult for a person on a wheelchair to make use of the restroom without help. We found strange to find the same doors in the newly inaugurated Sala Amica C, which opened in February 2013. However, Sala Amica C accessible (?!) toilet adds a bizarre twist, as it boasts manual sliding doors past its main conventional entrance. All this happens on the watch of the same operator, SEA Aeroporti Milano, who recently revamped Milan Linate accessible toilets, now featuring sophisticated power sliding doors!

 

Recent refurbishments, like the new elevators, tackled some of the accessibility challenges of an airport well known for its poorly planned lay out. However, significant issues like disabled toilets accessibility, accessibility to and from the disabled car park, and accessibility signage must be addressed with haste. Malpensa airport third runway will be operational by spring 2015, just before the opening of the World Expo 2015. Malpensa has the opportunity, time, and resources, to match future quality accessibility to the excellent access services and support the airport already delivers disabled passengers.

 

About the author

 

Founder and Editor-in-Chief of Reduced Mobility Rights, Roberto Castiglioni is an expert of PRM regulations and handling procedures, and has personal experience as travelling partner and carer of a passenger with reduced mobility.

 

Roberto is a member of the Disability Working Group of the Civil Aviation Authority. He is also a member of the Easyjet Special Assistance Advisory Group. Chaired by David Blunkett MP, the independent advisory group esaag provides Easyjet with strategic guidance and practical advice on the evolving needs of passengers requiring special assistance.