Milan Linate Airport Accessibility Report
Written by Roberto Castiglioni
Milan's second airport in number of passengers served, Linate access services helped 44,413 disabled passengers in 2012.
Operated by SEA Aeroporti Milano, Milan Linate airport is known to Italians as the north point of the busiest Italian route, Milan - Rome.
Reduced Mobility Rights assessed Linate's access facilities and services on 21 February.
Despite its proximity to the city centre, access to Linate airport via public transport is limited. The terminal building can be reached from Milan by bus, wheelchair accessible Linea 73. The airport can also be reached with dedicated shuttle bus from Milan's main train station, Stazione Centrale.
The lack of an underground or train connection is living proof of the renowned lack of focus of Italian politics.
Passengers often choose to get to Linate via taxi. However, while compiling this accessibility report, we learned that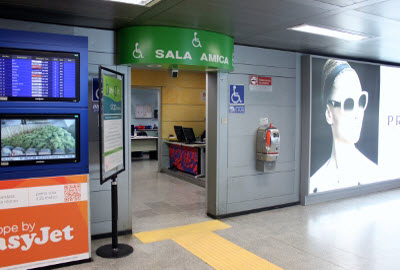 wheelchair accessible taxis are a rarity. Passengers who require WAV taxis are strongly recommended making direct arrangements prior to traveling to or from Milano Linate.
Brand new calling points were rolled out in the days prior to our visit. While easy to use, they are still quite difficult to spot as signage is being introduced.
On the plus side, the special assistance meeting point, Sala Amica is within meters from the terminal entrance. 
The name of the meeting points begs a thought. The concept of branding meeting points as "Sala Amica" (friendly room) is to convey a sense of warmly welcoming and reaching out to the needs of vulnerable passengers. However, it totally disregards the fact that foreigners traveling to Italy may not have sufficient knowledge of the language to enable them to understand that Sala Amica is a special assistance meeting point. While appreciating the presence of wheelchair logos, Reduced Mobility Rights general recommendation is to add "Special Assistance" to all signage branded "Sala Amica".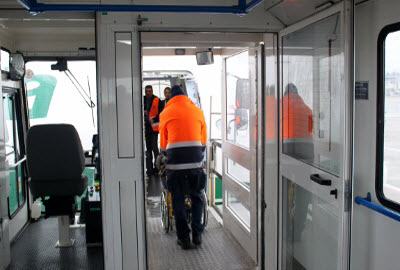 Disabled passengers requiring assistance first report to the Sala Amica located by the entrance to the terminal building. There they are helped complete the check in process, then taken through passport control and security check points. Once reached departure halls, passengers have the option of being taken to the airside Sala Amica, or ask to wait for their boarding time by one of restaurants and eateries.
Distance is never an issue in the compact Linate airport terminal building. However, most flights operate from remote stands; therefore, passengers with reduced mobility are helped boarding and deplaning flights with the use of ambulifts or dedicated minibus. There are 6 ambulifts and 1 minibus in use at Milano Linate airport.
At times, access services can be extremely busy at Linate airport. Milan is one of Italy's main destinations for domestic medical tourism. Every year, tens of thousands of patients come to Milan from the south of Italy to access quality health care. Like most airports across Europe, Linate is burdened by the challenge of non pre booked assistance requests, currently 40% of all access services the airport provided in 2012. To avoid disappointing disabled travellers, a waiting room is available to passengers with reduced mobility where ambulifts disembark arriving passengers being helped.
Just like the Cathedral of Milan, the Duomo, Linate airport undergoes constant maintenance and renovation. Recently
introduced power operated sliding doors are the signature feature of disabled toilets at Linate. Seamless and easy to use, this solution achieves the purpose of making restrooms accessible to disabled passengers traveling on their own.

 

Linate's terminal building is in compliance with all accessibility requirements. During our assessment, we verified that every area of the terminal building is accessible.

  

Access services are operated by two service providers, the in-house SEA Servizi and Consorzio Lepanto. Disabled passengers' feedback on assistance received at Linate airport is usually positive. Italian openness and natural predisposition to help others is one part of the equation, intensive training completes the picture. All access agents must take 7 days, 56 hours course before being cleared for duty.

 

The intensive training spans from knowledge of regulation and procedures to handling of support means like wheelchairs, special equipment, and ambulifts. Training sessions also cover support techniques needed to transfer passengers from wheelchairs to the aircraft seat, and first aid course. 

 

Communication is the signature element of access agents training. Personnel are taught how to meet and greet disabled passengers, how to reassure them and provide them information on the service

they are receiving, and how to act in case of emergencies.

 

A focused English course is also part of the training. Italians renowned lack of interest for foreign languages is no mystery; Trainers tackle this issue by handing out dedicated phonetic handbooks to all access agents. Despite all efforts, passengers with reduced mobility will most likely hear some funny, newly crafted Itanglese words.

 

Special assistance personnel undergo mandatory refreshment training sessions.

 

Bar poor public transport links with the city, Milan Linate airport qualifies as comfortable destination for passengers with reduced mobility and other disabilities, providing accessibility and quality access services.

 

 

About the author

 

Founder and Editor-in-Chief of Reduced Mobility Rights, Roberto Castiglioni is an expert of PRM regulations and handling procedures, and has personal experience as travelling partner and carer of a passenger with reduced mobility.

 

Roberto is a member of the Disability Working Group of the Civil Aviation Authority. He is also a member of the Easyjet Special Assistance Advisory Group. Chaired by David Blunkett MP, the independent advisory group esaag provides Easyjet with strategic guidance and practical advice on the evolving needs of passengers requiring special assistance.