Istanbul Ataturk Airport Accessibility Report
Written by Roberto Castiglioni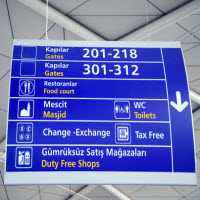 Twenty second busiest airport in the world, Istanbul Airport access facilities and services are overall good, but feature one facility being the cause for safety concern.
Just short of 45 million passengers made use of Istanbul Atatürk airport in 2012. Of those, approximately 240,000 where disabled passengers flying Turkish Airlines. The airport buildings are owned by a government controlled company, while the airport is operated by privately owned TAV Airports. French stakeholder Aeroports de Paris controls 38% of TAV Airports.
Reduced Mobility Rights visited Atatürk International Terminal on 19 February. Terminal 2 is the newest, inaugurated in 2000. PRM service provider at Istanbul airport is Tez Medikal. The service is branded PortClinic. 
Prior to our walkabout in the airport's facilities, we sat down with management of the airport authority, of Turkish Airlines, and PortClinic for a briefing on services available to disabled passengers.
PRM information immediately available was related to services provided to passengers with reduced mobility flying Turkish Airlines. Data presented reflects dynamics and percentages mirroring access assistance services provided in airports across the EU, with wheelchair assistance being the most common request for support.
Like every other visit, we begin from the entrance to the main terminal building. There were no wheelchair accessible taxis in sight; therefore, it is highly recommendable to pre-book this service.
There are numerous calling points, some wheelchair accessible, in the proximity of Terminal 2 entrance doors. Some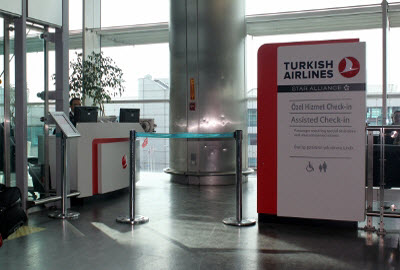 columns provide information in braille for the visually impaired while all are fitted to be of use to the hearing impaired. Disabled passengers arriving at the airport can be met by access agents at these calling points, or make their way to the airlines' counters. Turkish Airlines has its own exclusive special assistance counter at the right end of the Terminal building.
All passengers are subject to a complete security checks upon entering Istanbul airport. Each check point features a priority lane dedicated to disable passengers.
PortClinic addressed the difficulty of operating in a large size terminal environment by introducing powered wheelchairs. These smart vehicles are well perceived by disabled passenger, and allow access agents to provide quality support without excessive physical effort.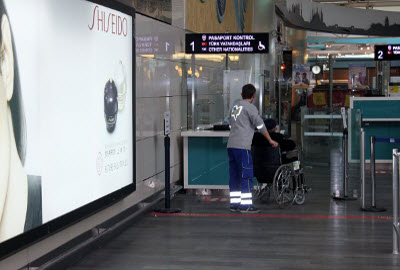 Once completed check in formalities, passengers are helped through passport control. The airport features a dedicated priority channel for disabled passengers. 
Once reached the airside of the terminal, disabled passengers can make use of dedicated waiting areas, or ask to be taken to one of the numerous restaurants located in the departure hall.
As we walk through the always accessible terminal, we come across a serious safety concern. Accessible toilets feature a power operated door. Shortly after pressing the open button, we are hit by the opening door. We move aside to allow the door to open completely. Within seconds the door begins to close, inevitably pushing us forward. The experience is unpleasant for an able body, and we see the hazard it represents if the door is operated by a person in a self-propelled wheelchair, a blind passenger, or a passenger with mental delay. 
Expanding our reach, consequences could become catastrophic if the door is operated by an unaccompanied child.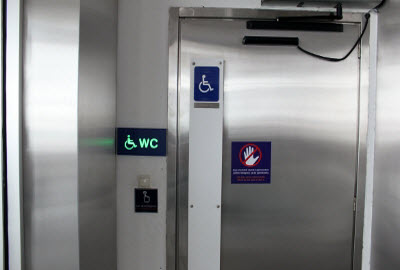 Reduced Mobility Rights appreciates our note of concern has been received by Istanbul airport management, and that an immediate investigation has been opened to identify ways of making access to these toilets safe.

On a brighter note, Istanbul Atatürk features a medical area to accommodate passengers with medical problems. The room is manned by paramedics at all times, to ensure medical emergencies can be tackled immediately.

 

The airport operates ambulifts to assist passengers with reduced mobility to board and deplane aircraft parked on remote stands.

 

During our tour, we noted as communication skills can present a problem. Not all access agents have knowledge of a second language, and knowledge of the English language is short of rare. 

 

With ambitious plans of expansions to become a 150 million passengers per year hub by 2018, and being

home of Turkey's flag carrier, which also aims to become a global airline, Atatürk faces the challenge to be able to provide access services and facilities matching its intentions. 

 

Reduced Mobility Rights believes this interim report highlights two areas where immediate action is needed. Our goal is to promote inclusion and access in the aviation industry. In this perspective, we are available to Istanbul airport management to provide in-depth technical analysis and strategic advice to ensure Istanbul Atatürk airport can provide excellent access facilities and outstanding support services.

 

 

About the author

 

Founder and Editor-in-Chief of Reduced Mobility Rights, Roberto Castiglioni is an expert of PRM regulations and handling procedures, and has personal experience as travelling partner and carer of a passenger with reduced mobility.

 

Roberto is a member of the Disability Working Group of the Civil Aviation Authority. He is also a member of the Easyjet Special Assistance Advisory Group. Chaired by David Blunkett MP, the independent advisory group esaag provides Easyjet with strategic guidance and practical advice on the evolving needs of passengers requiring special assistance.