Stansted Denies Assistance, Disabled Woman Stranded for Two Days
Written by Roberto Castiglioni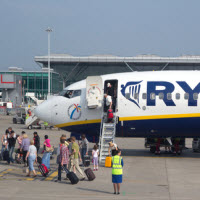 Despite pre booking access services months in advance, Stansted airport denied access to a disabled woman who missed her flight and was left stranded for two days.
When arriving at Stansted airport in the morning of 3 January 2013, either Christine Wanjiku or her family imagined the stressful situation they were about to experience.
Christine, who suffers from developmental delay, flew to the UK from Switzerland on 18 December to spend Christmas Holidays with her family.
Because of her condition, her mother booked access services at the time of purchase of the ticket on 10 October. On 1 November, she also contacted Stansted special assistance provider ISS. "Easyjet will pass the booking onto us, so we are ready to assist your daughter," ISS told Christine's mother. Records show the airline passed the assistance request to Stansted airport.
On 3 January, 2013 Christine was escorted to Stansted airport to catch her flight back to Switzerland. 
"The passenger checked her bag in with us at 12:20 which is 45 minutes ahead of the flight departure," a spokesperson for the airline told Reduced Mobility Rights. "Check-In closed at 12:25 so the passenger was definitely not late for the check-in."
Christine was then taken to the Stansted Special Assistance desk. "The family was told they (ISS) were busy and so would not be offering assistance for Christine to board her plane," Christine's mother recalls. Staff told the family to make use of the airline's pre-boarding services. After a short while, Christine made her way to the boarding area.
"Two hours later, Christine called them saying she was still at the airport as she was late to the gate and the plane had taken off without her," the disabled woman's mother says.
Christine was left stranded for two days, had to buy a new ticket, and missed a day of work. 
The disabled woman's mother asked Reduced Mobility Rights to file a complaint on her behalf. The airline immediately reacted apologizing to the passenger and refunding the unused part of her original ticket.
Stansted airport, notified through ISS, has yet to apologize to the passenger. 
At first Stansted said the event was being handled through the airline. Later, the airport alleged the problem was entirely of the airline as the passenger turned up too late at check-in.
On Thursday, Stansted gave its account of the incident. "ISS advised the passenger that they had checked in quite late and were very close to boarding time, but they would endeavour to find a PRM operative to come and assist them through the airport as soon as possible," the report of Stansted airport says. "At the time there were no ISS available operatives at the desk to assist."
Reduced Mobility Rights has referred the complaint to the Civil Aviation Authority. "The CAA is looking into claims that ISS were unable to provide service to a passenger with mobility issues at Stansted airport. We take any alleged breaches of EU regulations protecting people with mobility issues very seriously, anyone with concerns can find out more on our website," a CAA spokesperson said.
Regulation 1107/2006, which identifies rights of disabled persons and persons with reduced mobility when travelling by air, clarifies that airports must provide pre booked assistance within their quality standards provided the passengers is at check-in "at the time stipulated in advance with the carrier." 
On the other hand, Reduced Mobility Rights noticed Stansted airport is in violation of EC1107/2006 as it fails to comply with the compulsory publication of quality standards (article 9, chapter 1 and 3). The finding has been referred to the Civil Aviation Authority with the request to take immediate action against Stansted.
Author's notes
It is unacceptable that pre booked access services were not available to the passenger. It is not the airport's prerogative or place to comment on the passenger's check in requirements, let alone to cite them as a reason they will not provide assistance. 
Incidents like this one can no longer be tolerated; there are serious lessons to be learned in Christine Wanjiku's negative experience.  Given the circumstances, Reduced Mobility Rights expects Stansted airport upper management publicly apologise to Ms Christine Wanjiku.
About the author
Founder and Editor-in-Chief of Reduced Mobility Rights, Roberto Castiglioni is an expert of PRM regulations and handling procedures, and has personal experience as travelling partner and carer of a passenger with reduced mobility.
Roberto is a member of the Disability Working Group of the Civil Aviation Authority. He is also a member of the Easyjet Special Assistance Advisory Group. Chaired by David Blunkett MP, the independent advisory group esaag provides Easyjet with strategic guidance and practical advice on the evolving needs of passengers requiring special assistance.