Geneva Airport, Access Services Swiss Style
Written by Roberto Castiglioni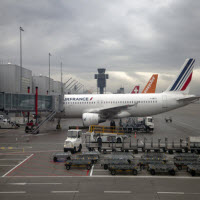 Switzerland is renowned for delivering efficiency over appearance, and access services and facilities at Geneva International airport fit the profile.
Built on the border between Switzerland and France, Geneva International airport can be accessed from both countries. Passengers entering the French sector of the airport and traveling on domestic flights do not have to go through Swiss immigration and customs. Serving nearly 14 million passengers, Geneva airport assisted approximately 70,000 disabled passengers in 2012.
Reduced Mobility Rights visited Geneva airport on 7 February. We arrived in Geneva after a short flight from London Gatwick. Upon arriving at Switzerland's second busiest airport, we meet Aline Yazgi, Head of external relations for Geneva International airport.
We sit down with Aline for a quick rundown ahead of the visit. With little over 60% pre-booked assistance requests Geneva airport falls in the average European pre-notified bracket. Switzerland is not part of the European Union; however, the airport voluntarily complies with EU Regulation 1107/2006, and other EU legislation.
The visit begins with an accessibility assessment. There are plenty of disabled parking places in the car parks adjacent to the terminal building. Calling columns are located nearby reserved parking bays, and can be used to call access services. 
Wheelchair accessible taxis are available on site. The airport is serviced by both trains and buses. When arriving at
Geneva from abroad, passengers with reduced mobility wishing to continue their journey by train are to pre-book their assistance directly with the Swiss Railways.
The access services meeting point is located next to check in desk 45 inside the terminal building departure hall. There, passengers are registered and helped from that point onward. 
As we make our way from the car parks to the meeting point, Aline explains that Geneva airport is undergoing significant refurbishment. Unlike other recently visited terminals, Geneva does not feature solutions for the visually impaired or the deaf. However, Aline explains that new, improved facilities for disabled passengers will roll out as refurbishment works progress.
At the meeting point, we meet Pascale Lambert, deputy CEO of GVAssistance, the company providing access services at Geneva airport. Pascal explains that passengers are kept, or asked to report back to the meeting point one hour prior to their scheduled departure time. 
Passengers are then escorted to the nearby employees and crew security checkpoint. Right after the security checkpoint, disabled passengers are invited to make use of a dedicated waiting area located within GVAssistance control centre.
The waiting area provides comfortable seating and basic services. However, its humble setting is at odds with the otherwise enjoyable appearance of mainstream departure hall features and services.

 

From the waiting area, passengers are taken on board the aircraft via the terminal building if the flight departs from the gate or via ambulift or specially equipped minibus if the flight leaves from a remote stand.

 

The airport terminal size and the renowned Swiss efficiency are the key factors that allow the access service system to run seamlessly, like clockwork.

  

Disabled passengers arriving to Geneva International airport by air can also expect to enjoy efficient assistance. However, to ensure a perfect experience, passengers are reminded to pre-book their assistance needs at least 48 hours before departure. This can be done with the airline, or the tour operator. In special cases, this can also be done directly with GVAssistance. Relevant information can be found on the airport's website: https://www.gva.ch/en/desktopdefault.aspx/tabid-329/

  

Other aspect passengers with reduced mobility must take into consideration before traveling through Geneva

airport is  that GVAssistance firmly enforces the limit of 1 hand luggage not exceeding 7 kilograms (15 lbs.) per passenger. This is to comply with airlines and health and safety regulation.

  

Our visit ends with a quick debriefing with Aline Yazgi. Access services Geneva International airport provides are perfect, definitely Swiss style. However, facilities can and will improve. Humble frugality is a distinctive signature of Switzerland, and we made sure not to be distracted by this element. However, we would like to see a more inclusive approach, one that allows the disabled passenger to make use of waiting areas within mainstream halls. We would also like to see availability of support features for the hearing and visually impaired. As we say goodbye to Aline, we promise to return to Geneva once refurbishments are completed.

 

About the author

 

Founder and Editor-in-Chief of Reduced Mobility Rights, Roberto Castiglioni is an expert of PRM regulations and handling procedures, and has personal experience as travelling partner and carer of a passenger with reduced mobility.

 

Roberto is a member of the Disability Working Group of the Civil Aviation Authority. He is also a member of the Easyjet Special Assistance Advisory Group. Chaired by David Blunkett MP, the independent advisory group esaag provides Easyjet with strategic guidance and practical advice on the evolving needs of passengers requiring special assistance.