Accessible Travel: Turkish Airlines Failing Disabled Passengers
Written by Roberto Castiglioni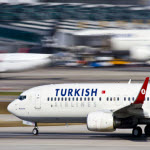 In this day and age where accessible travel is a top priority in the aviation industry carriers like Turkish Airlines are failing disabled passengers.

 

Operating a fleet of 202 aircraft to 204 destinations worldwide, Turkish Airlines is a fast expanding carrier which operates in the Star Alliance. Turkish was named the Best Airline in Europe at the 2012 Best Airline Awards. "These Awards are voted by airline customers, not by Skytrax," a spokesperson for the airlines review and ranking site told Reduced Mobility Rights.

 

The airline's policies towards access and inclusion are well below acceptable standards, which somehow reflect the findings of the EU commission 2012 report on progress made by Turkey in preparing for EU membership.

 

The report found "Deadlines for mandatory compliance for public institutions to provide accessible services have been extended and postponed," and "Comprehensive anti-discrimination legislation, including on the establishment of an antidiscrimination and equality board, is still lacking."

 

Reviewing information available to PRMs on the UK facing website of Turkish Airlines we came

across disconcerting findings. "Passengers who have had asthma attacks before the plane's doors have been closed will not be allowed to fly," the Turkish website says. The vast majority of airlines are equipped to manage asthma attacks as their medical kits include appropriate medicines.

 

"Passengers with disabilities that prevent them to exit the aircraft by themselves if needed are not allowed to board the aircraft unattended unless they claim self-sufficiency," the website also says. EASA safety regulations require that the passenger must be able to make his/her way to the emergency exit unaided. This determination cannot be left to a claim of self-sufficiency.

 

Above all, Turkish Airlines does not inform passengers of the need to pre-book assistance services at airports across the European Union. High numbers of non pre-booked access services are EU airports' greatest challenge and most common cause for dissatisfaction and complaint among disabled passengers. Turkish Airlines careless approach towards its reduced mobility passengers is unacceptable.

 

Reduced Mobility Rights asked Turkish Airlines how many disabled passengers and passengers they carry per year, how they collect special service requests from disabled passengers, how they suggest disabled passengers go about asking for special assistance when booking a flight, which inflight services Turkish provides to its disabled customers, and how does Turkish Airlines handle the pre-booking issue and interacts with airports to minimize assistance delays for its customers.

 

"These are very difficult questions," a spokeswoman for Turkish Airlines told Reduced Mobility Rights. "I have contacted our PRM department many times but received no reply. Perhaps you can ask simpler questions next time because right now I have no answers."

 

About the author

 

Founder and Editor-in-Chief of Reduced Mobility Rights, Roberto Castiglioni is an expert of PRM regulations and handling procedures, and has personal experience as travelling partner and carer of a passenger with reduced mobility.

 

Roberto is a member of the Disability Working Group of the Civil Aviation Authority. He is also a member of the Easyjet Special Assistance Advisory Group. Chaired by David Blunkett MP, the independent advisory group esaag provides Easyjet with strategic guidance and practical advice on the evolving needs of passengers requiring special assistance.