Belfast Airport, Access Services With The Irish Touch
Written by Roberto Castiglioni
Serving little over 4 million passengers per year, Belfast International airport provides remarkably good access services, further improved by the traditional Irish warmth.

 

Reduced Mobility Rights review of airport Terminals accessibility and assistance services for disabled passengers continues; on 31 January we visited Belfast International airport.

 

Second busiest airport on the island of Ireland after Dublin, Belfast airport is the largest airport in Northern Ireland, serving 4, 1 million passengers in 2011. In the same year, the airport provided assistance services to 31,969 disabled passengers.

 

The short flight from London Gatwick takes us to Belfast International in little over one hour.

Upon entering the airport building, we meet Rod Haskins, Operations Manager at Belfast airport.

 

Rod fills us in with essential information about accessibility and access services at Belfast airport. The airport percentage of pre-notified assistance is 70%, 10/15% greater than most airports across the EU.

 

Awareness campaigns ran by the Consumer Council for Northern Ireland, and other associations have been helpful to inform the public about available services and pre-booking requirements, Rod explains.

 

Having completed security clearance ahead of time, we quickly get the access pass and head over to the PRM assistance desk where we meet Jonathan Shearer, OCS manager of PRM services.

 

OCS is a multinational private company providing access services on behalf of a growing number of airports across the UK.

 

With Rod and Jonathan, we exit the airport building to begin the accessibility assessment.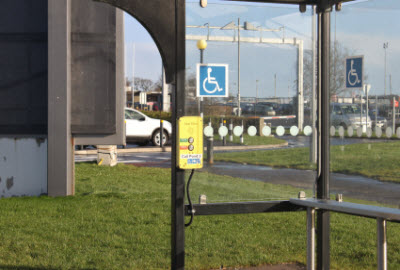 Although always advisable, pre-booking of Wheelchair Accessible Taxis is not strictly required. If not available at the Taxi stand, a WAV can be sourced with ease in a matter of minutes. A drop off bay for disabled passengers features a calling point from where the person can notify access agents if help is needed from that point.
Following an accessible path we make our way inside the main check-in hall. The Special Assistance desk is located opposite to the building entrance. The desk is manned at all time the airport is in operation. Disabled passengers can make use of the dedicated sitting area adjacent to the special assistance desk while access agents complete check in formalities on their behalf.
An IPad featuring a translator is available to non-English speaking disabled passengers to communicate with access agents. The device is also available to passengers with severe hearing impairment. Wheelchair assistance represents over 95% of all access requests at Belfast International airport.
Once check-in is complete, disabled passengers are making their way to the departures hall through a dedicated security checkpoint.
The well-known Irish warmth and openness are almost palpable as we browse through the airport building. It is far from uncommon to see airport employees interact with passengers, helping them irrespectively of their needs.
It comes to no surprise that Belfast International access services receive few complaints and a substantial number of praises.
Passed security PRMs have the option of waiting for their flights at one of the many eateries or be taken directly to the gate. Most chose the former option. Access agents join them again 10/15 minutes prior to embarkation to guide them to the gate.
Belfast International airport features a single airbridge. However, 3 ambulifts are available to assist passengers with severely
reduced mobility board aircraft.
As we walk through the terminal building, we learn of a strange access request. U.S. regulations allow passengers to travel by air with support animals, primarily meant to provide emotional support to their respective owners. Some time ago a US bound passenger showed up at Belfast assistance desk asking for help with her support dog, a Chihuahua. Needless to say, the access agent barely concealed his bewilderment at the unusual request. As it turned out, the little dog was a specially trained epilepsy alert dog. These animals are able to alert their owners of the imminence of an attack at least 15 minutes before its occurrence.
From the departure gate, we go to arrivals and browse the terminal in the opposite direction. Every area of Belfast International is accessible. Where needed, elevators are available to PRMs. All toilets feature a clearly marked disabled facility. All gates feature specially designed waiting chairs reserved for disabled passengers.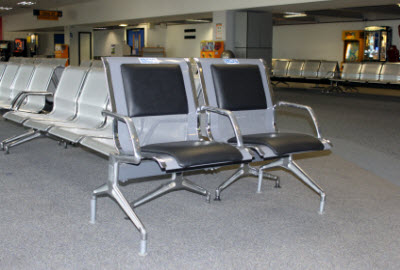 At the end of our visit, we ask Rod Haskins if there is anything he would like to change or improve. "I would like mainstream passengers show some patience and understanding towards less able persons when clearing security checks or queuing for boarding," he says. "Kindness is free, and makes everybody's travel experience more enjoyable."
With minutes to spare before our flight, we rush to the gate. Midway through the departure hall we hear a person calling us. "Hey, aren't you flying to London? You are going the wrong way!" He is one of the agents we briefly met at the assistance desk. He points us in the right direction. As we tell him how grateful we are, he smiles. "No matter your need, we are here to help. Have a safe flight!"
About the author
Founder and Editor-in-Chief of Reduced Mobility Rights, Roberto Castiglioni is an expert of PRM regulations and handling procedures, and has personal experience as travelling partner and carer of a passenger with reduced mobility.
Roberto is a member of the Disability Working Group of the Civil Aviation Authority. He is also a member of the Easyjet Special Assistance Advisory Group. Chaired by David Blunkett MP, the independent advisory group esaag provides Easyjet with strategic guidance and practical advice on the evolving needs of passengers requiring special assistance.