Barcelona International Airport Access Services Report
Written by Roberto Castiglioni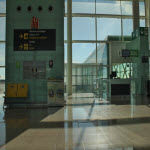 Barcelona International airport commitment to provide quality access services is hindered by a large proportion of non prebooked assistance requests.
Commonly known as El Prat, Barcelona is the second largest airport in Spain after Madrid Barajas, 9th busiest in Europe and 31st busiest airport in the world. Reduced Mobility Rights visited El Prat on 24 January 2013. 
El Prat is operated by state-owned AENA (Aeropuertos Españoles y Navegación Aérea), which operates 47 airports across Spain, and is also responsible for Spain's air traffic control.
Despite its sizeable traffic, over 34 million passengers in 2011, Barcelona airport provides access support to a remarkably small percentage of disabled passengers, little over 115,000 per year. A large percentage of access assistance is by elderly travellers. The age factor could be identified as the reason why nearly 50% of all access requests are not pre-booked.
Upon arriving in Barcelona from London Gatwick, we are met by David Rebollo Santos, the man at the helm of the department that supervises PRM services at Barcelona International airport.
Having completed security checks ahead of our visit, David hands us the badge that will provide access to all areas of Terminal 1, the largest and most modern of El Prat's two terminals.
As we make our way out of Terminal 2, the PRM meeting point catches our attention. Twenty PRM meeting points are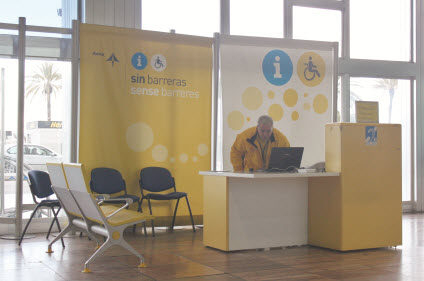 scattered across both terminals. These areas are built following the open space principles, essential to promote inclusion. In addition to these meeting points, interactive "totems" are accessible to disabled passengers at disabled parking areas and other locations inside the terminals. These totems are available to PRMs and other disabled passengers requesting assistance. The totems have distinctive features for travellers with partial hearing impairment, but only the most recent ones featuring video monitors are suitable for deaf passengers. Instructions on how to use the totems are available in braille for the visually impaired.
WAC Taxis are not immediately available, and the airport strongly suggests passengers in need of wheelchair accessible vehicles to book them prior to their arrival at Barcelona. The company TaxiAmic provides WAC Taxi service. More information can be found at https://www.taxi-amic-adaptat.com/ 
Our first stop in Terminal 1 is David Rebollo Santos' office. Here, he briefly explains how access services work at Barcelona El Prat. He also takes time to tell us about accessibility features of the airport terminals.
One of the peculiar services in place at El Prat is the daily examination of disabled passenger and ramp service standards. Quality control agents working for the independent company Aertec perform random audits on approximately 7% of all access service orders.
It is time to start the visit of Terminal 1. We make our way to the newly opened security checkpoint for disabled passengers and other vulnerable persons like pregnant women and passengers traveling with infants. The checkpoint has been designed and executed with accessibility in mind and is staffed by personnel trained to handle PRM passengers.
Past security we make our way to the Schengen area part of the Terminal. The European Schengen Area operates like a single state for international travel with little or no control. The UK is outside the Schengen Area; Travel to and from the United Kingdom is subject to passport control. At Barcelona airport, there are no passport control kiosks reserved for PRMs.
Following a serious accident in 2009, Barcelona airport discontinued the use of golf buggies inside its terminals. However, PRMs traveling with personal motorized wheelchairs are allowed to use them inside terminals.
While PRM meeting points and gate waiting areas are built to avoid segregating disabled passengers, the airport provides one waiting room for disabled passengers requesting such accommodation. Entrance to this area is located at the beginning of Terminal 1 main pier.
The PRM access services coordination area is in the ground floor of T1 main pier. Here is where assistance requests are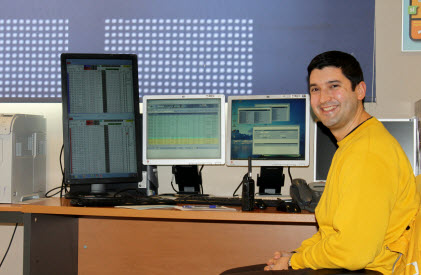 processed. Personnel providing assistance via totems is housed here. The coordination room controls the 9 ambulifts in use at El Prat. These are vehicles used to assist PRM access to aircraft parked in remote stands on the airports' apron. Because of the unavailability of golf buggies, PRM services make use of cars to provide faster connections between gates located at the opposite end of the airport.
In the control room, we learn of an incoming aircraft carrying a disabled passenger who prebooked assistance. We quickly reach the gate where we meet Juan Jose, the agent assigned to assist the PRM.
Command of foreign language is desirable, but not required from frontline agents. PRM services normally assign agents with knowledge of one or more foreign languages to support PRMs traveling on international flights. However, this is not always the case with passengers traveling from within the European Union.
We make our way back to David Rebollo Santos for a quick debrief of our visit, and to ask him what tops his wish list to improve PRM services at El Prat.

 

"At Barcelona airport, not pre-notified assistance requests represent approximately 50% of all PRM access services," Rebollo Santos explains. "While we make every effort to cater to all access service calls, we feel we can deliver better assistance, and dramatically shorten the waiting time at peak traffic if passengers prebook their special requests at least 48 hours before the date of travel."

 

In June 2012, the European Commission published a set of interpretative guidelines on Regulation 1107/2006, the law defining the rights of disabled passengers traveling by air.

 

The guidelines indicate "Assistance service providers can [] give priority to pre-notified

disabled persons and persons with reduced mobility  when providing assistance, insofar as they ensure that a non-discriminatory approach is taken, and all reasonable efforts are  to assist those disabled persons and persons with reduced mobility who have not pre-notified their needs."

 

As we see PRM access services in airports across the EU, poor communication between airlines and airports and high percentages of non prebooked assistance are the two most common challenges airports have to deal with. Barcelona is in no different position than other airports.

 

The guidelines identify the fast way to tackle the issue. "Air carriers, their agents and tour operators shall put in place all the necessary means to facilitate pre-notification, particularly, but not  only, where disabled persons and persons with reduced mobility book and purchase directly through websites."

 

Reduced Mobility Rights feels too little is being done to inform disabled passengers of the need to prebook assistance. Most airlines provide limited assistance request forms on their website. It is simply unfair airlines asking PRMs to call premium phone numbers to request access services. Non specialized tour operator agents often lack sufficient training to ensure PRMs are aware of the requirement. Airports must also do their part in the awareness campaign. For example, we have yet to see an airport that provides PRMs and disabled passengers information about their rights and duties on permanent billboards. In essence, the industry must not blame disabled passengers for being unaware of the need to pre notify access service requests if so little is done  to make PRMs aware of the requirement.

  

Currently operating at 65% capacity, Barcelona International airport has adequate room for orderly growth in passenger traffic. However, the problem of not notified access requests must be tackled with haste, as it is essential to ensure PRMs benefit from good quality standards at El Prat.

 

 

About the author

 

Founder and Editor-in-Chief of Reduced Mobility Rights, Roberto Castiglioni is an expert of PRM regulations and handling procedures, and has personal experience as travelling partner and carer of a passenger with reduced mobility.

 

Roberto is a member of the Disability Working Group of the Civil Aviation Authority. He is also a member of the Easyjet Special Assistance Advisory Group. Chaired by David Blunkett MP, the independent advisory group esaag provides Easyjet with strategic guidance and practical advice on the evolving needs of passengers requiring special assistance.