Munich Airport Delivers Excellent Disabled Access
Written by Roberto Castiglioni
Reduced Mobility Rights visit of disabled facilities at European airports continues, spending one day with management and assistance providers at Munich airport.
On Friday, 11 January, we left Heathrow with the early morning flight to Munich International airport to spend the day together with the airport PRM manager, Mrs Marion Linkert, and assistance providers Aicher Ambulanz. The scope of the visit is to learn first-hand how the second busiest airport in Germany, sixth busiest in Europe, handles over 175,000 disabled passengers per year.
Munich International airport, named Franz Josef Strauss in memory of the past Bavarian Prime Minister, is second behind Frankfurt airport in terms of passengers handled, over 37 million in 2011. 
We meet Marion Linkert as we get off the BA flight at Terminal 1, the one handling airlines not members of the Star Alliance group. Terminal 2 caters to Lufthansa and all other members of Star Alliance.
Mrs Linkert became PRM Manager at Munich airport in the spring of 2012. She has been working in the aviation industry for twenty years. Her formidable experience and the extensive network built over the years are invaluable assets.
Having completed security clearance requirements in the weeks prior to the visit, we make a quick stop at the airport Police office to collect the badge that will allow accessing all areas of the airport terminals.
The visit begins with a walkthrough the lobby and check in areas of both terminals. The tactile guidance system available throughout the terminals immediately captures the attention. 
Tactile floor markings help blind and visually impaired passengers make their way at the airport. The markings begin at the
underground Train Station and entrances of both terminal buildings. The tactile system first leads to the information desk, where an information table in Braille with an overview of the airport is available. The markings then proceed to a special needs desk in the main check-in hall. That is where specially trained staff assists the disabled passenger needs and arrange assistance required until departure.
Touchscreen boards called InfoGates are available around both terminals. Available in different languages, InfoGates display routes the passenger needs to follow to find his way inside the airport building. Data can be stored on the passenger boarding pass and easily accessed at any InfoGates board.
One of the most common remarks and source of frustration for disabled passengers requiring assistance at airports concerns segregation from mainstream travellers. Passengers with reduced mobility gather at dedicated meeting points, and from there are placed in sheltered waiting rooms.
Munich airport has gone in the exact opposite direction, making sure inclusion is the key concept around which the services for disabled passengers are crafted. Aside from the dedicated check in desks, which also cater to unaccompanied minors, there is no such action even remotely recalling segregation at Franz Josef Strauss. Every information desk inside both terminals is manned by employees trained to handle special needs requests. Wheelchairs are available at all information desks, as well as other locations throughout the terminal buildings. Passengers traveling with their carers, or a partner, can make use of wheelchairs without the need of an airport assistant.
Marion Linkert is proud of the way the services she supervises convey this positive sense of inclusion. In fact, she reveals that as of 22 January 2013 self-propelled wheelchairs will become available to passengers who want to use them. The availability of options, together with the freedom of choice, is crucial to improve the passenger experience. It comes to no surprise that German airports often achieve the highest ratings in customer satisfaction among disabled passengers.
The visit continues through security check points. Disabled passengers may access a dedicated security gate, or make use
of the normal check points. After clearing security, passengers with reduced mobility are free to use waiting areas or lounges where their class of travel or frequent flyer status allows access, or access the dedicated waiting lounge at their discretion. There are two special needs lounges, one per terminal.
As the morning ends, time comes to grab a quick bite and talk about which aspects of the assistance Munich airport provides to disabled passengers have room for improvement. Waiting times on peak traffic days can be frustrating. This is a problem common to all airports across the European Union. The culprit, or trigger, has a name: non prebooked assistance. EU regulation makes prebooking of assistance an essential requirement. However, the law grants the right of assistance to walk-in (non prebooked) passengers as well. 
On average, 60% of disabled passengers pre-book their assistance at least 48 hour before their travel time. However, in Munich this percentage falls to 45%. This large number of walk-ins is responsible for unavoidable delays at peak times. 
Reduced Mobility Rights strongly recommends disabled travellers to pre-book their assistance at least 48 hours before their flight to ensure their needs are attended in the most experienced and timely manner.
While there is no quick fix to this problem, Reduced Mobility Rights believes airlines, tour operators, and airports must do more to ensure awareness of the prebooking requirement among their disabled customers.
After lunch we meet an assistance team of Aicher Ambulanz, the Mobility Service provider contracted by Munich Airport. All front line agents speak German and English. However, the vast majority speaks one or two other languages.
Following Piero and Chiara on the job is a pleasure, and the best possible way to see first-hand how they interact and assist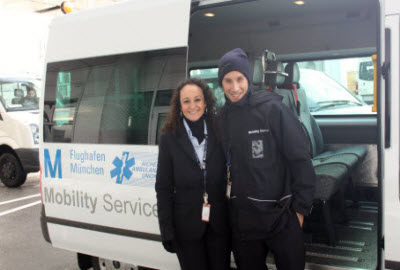 disabled passengers. These young professionals immediately convey a sense of calm and of being in control, necessary to make a person relying on their support at ease.
The first call is to receive an arriving passenger who requires full assistance, WCHC. As passengers disembark, Piero retrieves the disabled passenger's personal wheelchair from the cargo hold of the aircraft. After the last passenger leaves, Chiara and Piero make their way into the aircraft with a special wheelchair to help the traveller get off the plane. Once out of the aircraft, the passenger is quickly and seamlessly transferred in his own self-propelled wheelchair. As the passenger decides to make his own way into the terminal, Piero and Chiara prepare for the next call.
Following the recent publication of EU Guidelines, repatriation of personal wheelchairs now falls under the responsibility of the assistance provider of airports across Europe. While some are still busy implementing procedural changes, Munich airport is already fully compliant with the new guidelines.
In their next call, Piero and Chiara are assisting a young disabled passenger, escorting him from the special needs lounge to the aircraft. The young man is a frequent flyer well known to the assistance team as the cordial interaction between him and Chiara suggests.
In their third and final call with us, Piero and Chiara assist an elderly making her connection between flights docking at remote stands. 
Professionalism is one aspect of the equation. Passion for the job, and genuine desire to help others, complete the picture. "When I go home at night I am happy, knowing I have made a difference helping others," Chiara said. 
The final stop of this visit is at Aicher Ambulanz offices. There we meet other teams getting ready for their calls. Across the board, the same spirit of genuine, passionate dedication to helping is perceived. We then access the heart of the operation. In the coordination room, three dispatchers receive, organize and assign assistance requests.
A final debrief with Marion Linkert and we are ready to catch the flight back to London Heathrow. "Our service thrives on communication; I cannot stress enough how important communication is at all levels to ensure we provide an excellent service to disabled passengers," Marion says before waving us goodbye.
About the author
Founder and Editor-in-Chief of Reduced Mobility Rights, Roberto Castiglioni is an expert of PRM regulations and handling procedures, and has personal experience as travelling partner and carer of a passenger with reduced mobility.
Roberto is a member of the Disability Working Group of the Civil Aviation Authority. He is also a member of the Easyjet Special Assistance Advisory Group. Chaired by David Blunkett MP, the independent advisory group esaag provides Easyjet with strategic guidance and practical advice on the evolving needs of passengers requiring special assistance.