New Complaints Hit Heathrow Airport Disabled Assistance
Written by Roberto Castiglioni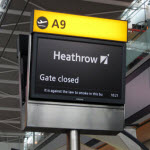 More disabled passengers have come forward sharing their complaints about assistance London Heathrow airport provides people with reduced mobility.
Hours after publishing the report of constant assistance failures a passenger with reduced mobility experienced over the year at London Heathrow, more passengers came forward sharing their negative experience with the services the airport provides disabled passengers.
"I had a horrible experience this summer in transit through Heathrow with my daughter (severe Cerebral Palsy) to and from California to Italy, "Heather Mispagel posted on the Reduced Mobility Rights Facebook page. "No help provided (on either trip) whatsoever. None - though airport had been advised of us in advance. Fortunately I had a stroller for my daughter however I also had another child to take care of and no other adult assistance... Needless to say the trip was very stressful indeed."
Unavailability of pre-booked assistance appears to be an area of serious concern among passengers using London Heathrow airport assistance. 
On 24 October, a disabled woman arrived at Terminal 5 on a British Airways flight from Lisbon. Her pre-booked wheelchair assistance was nowhere to be found.
"Another disabled passenger traveling on the same flight was met by assistance," Mrs Freidenberg recalls. "I walked a bit to go indoors, but my legs could not make it. We were just in the middle of nowhere, in some corridor, who knows where," she said. 
Airlines' employees are not shy to describe a non-flattering view of ground services BAA provides to PRMs arriving at London Heathrow.
"A great deal of long-haul flights have passengers requiring a wheelchair, it does not matter which company lands at Heathrow," an airline employee told Reduced Mobility Rights in May 2012. "They all suffer, at some time or other, having to wait for BAA ground service to appear or reappear for the wheelchair staff is stretched." 
"I had a dreadful 15 hour experience at Heathrow Terminal 5 in July and am still getting over it, "Teresa Clayton-Sanderson shared on our Facebook page. "No acknowledgement of my complaint from the service provider either. They seemed in chaos and severely understaffed & underequipped. I must've got a really bad day!"
"There are no complaint forms easily available in the airport website, and there is no complain box either inside Heathrow Terminals or in the wheel chair waiting rooms; some friends have tried to help me find it without success," disabled traveller Celia Freidenberg said. 
EU legislation protecting the rights of disabled passengers, 1107/2006, states that a disabled person who considers that his rights have been violated may bring the matter to the attention of the managing body of the airport.
"EU law does not place an obligation on Heathrow airport to put a complaint link on any particular page of the website," Mark Hicks, BAA Flight Connections and PRM Manager at London Heathrow told Reduced Mobility Rights months ago. 
While disabled passengers lament that either complaints can't be filed, or the ones submitted are ignored, Heathrow states passengers' praises are sky rocketing. "Over the last year we have seen a 187% increase in compliments from our passengers," a Heathrow airport spokesperson told Reduced Mobility Rights on Monday.
Despite numerous reports of denied pre-booked assistance, a black and white breach of the law, Heathrow airport has so far avoided enforcement by the authority.
"While both Heathrow and the CAA recognise that no level of failure is satisfactory, we are confident that working with ourselves and their stakeholders the airport is taking the right steps to continue to improve their position," a spokesperson for the Civil Aviation Authority said on Monday.