Disabled Passenger Blasts London Heathrow Airport Assistance
Written by Roberto Castiglioni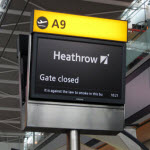 Assistance services London Heathrow airport provides disabled passengers are once again under scrutiny following a series of new complaints.
"I've been using airport wheelchairs for 22 years, and I can say Heathrow assistance is the worst," Mrs Celia Freidenberg told Reduced Mobility Rights.
Her condition did not stop her from traveling by air; Mrs Freidenberg is a frequent traveller in spite of her reduced mobility. However, a string of negative experiences with assistance services at London Heathrow has been the cause of distress and pain.
"At the beginning of 2012, I was traveling from London to Argentina," Mrs Freidenberg recalls. "I had been in the disabled waiting room for some time, and noticed the departure time was fast approaching. Two attendants were willing to take me to the aircraft, but their supervisor told them to wait because other passengers who had not yet reported at the assistance room."
The disabled woman begged the supervisor to be taken to the airplane, "If you do not want to wait for us, you can go walking, he told me."
Mrs Freidenberg made it to the aircraft moments before the departure of her flight. "When I got to the gate I was the last passenger to board the aircraft; the whole experience was psychological torture."
Disabled passengers and passengers with reduced mobility are first to board the aircraft to allow them time to move about the cabin and take their seats in comfort.
The outraged passenger felt the need to complain about the experience. "There are no complaint forms easily available in the airport website, and there is no complain box either inside Heathrow Terminals or in the wheel chair waiting rooms; some friends have tried to help me find it without success," she said.
EU law does not place an obligation on Heathrow airport to put a complaint link on any particular page of the website," Mark Hicks, BAA Flight Connections and PRM Manager at London Heathrow told Reduced Mobility Rights. "However, we do want to make it as easy as possible for passengers to get in touch with us if they have comments or concerns, hence the link on the website for passenger feedback."
Few months after the distressing experience, new challenges awaited Mrs Freidenberg. On 24 October, the disabled woman arrived at Terminal 5 on a British Airways flight from Lisbon. Her pre-booked wheelchair assistance was nowhere to be found. 
"Another disabled passenger traveling on the same flight was met by assistance," Mrs Freidenberg recalls. "I walked a bit  to go indoors, but my legs could not make it. We were just in the middle of nowhere, in some corridor, who knows where," she said.
"I begged the assistance lady not to leave me alone there, than sat on the floor as I could no longer stand," the disabled woman said. 
The attendant assisting the other disabled passenger phoned her colleagues to request the urgent dispatch of a wheelchair for Mrs Freidenberg. "Thanks to the kindness of the wheel chair attendant and the other passenger, they stood there waiting for my wheel chair to arrive." 
A wheelchair to help Mrs Freidenberg reached the remote gate after 30 minutes. According to Heathrow's quality standards, 96% of pre-booked arriving disabled passengers should be met by assistance within 5 minutes from leaving the aircraft. The remaining 4% should not wait more than 15 minutes.
 "Our records show that the [wheelchair] request was on the passenger's record and so should have been actioned by the airport," a spokesperson for British Airways told Reduced Mobility Rights. "We are really disappointed that a wheelchair was not made available, and sorry for the distress and pain caused to our customer."
'We are not able to discuss individual passenger details, however Heathrow scores consistently highly in passenger surveys looking at airport facilities and accessibility," a Heathrow airport spokesperson told Reduced Mobility Rights on Monday. "Over the last year we have seen a 187% increase in compliments from our passengers. The Paralympic Games saw further significant investment at the airport for passengers with reduced mobility including new lifts and additional buggies to transport passengers to and from the aircraft.'
In July 2012, an investigation by the Civil Aviation Authority into London Heathrow Airport services for disabled passengers found causes for concern.
"Following a recent passenger complaint about Heathrow Airport Limited, the CAA's investigations have revealed that there may be wider issues across the airport with repatriating wheelchairs," a CAA spokesperson told Reduced Mobility Rights in July.
Few months after the investigation findings, the CAA thinks positive steps have been taken. "The CAA has been in close contact with Heathrow for several months and has noticed a steady improvement in their handling of wheelchair repatriations," a spokesperson for the Civil Aviation Authority said on Monday. "While both Heathrow and the CAA recognise that no level of failure is satisfactory, we are confident that working with ourselves and their stakeholders the airport is taking the right steps to continue to improve their position."