New Travelchair Takes Disabled Children Travel To Next Level
Written by Roberto Castiglioni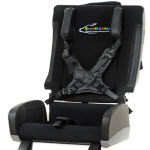 Charity MERU recently announced the launch of the new and improved Travelchair, the most advanced product to help disabled children travel by air.
Twelve years after its first prototype's launch, Medical Engineering Resource Unit (MERU), a charity part of Queen Elizabeth's Foundation for Disabled People Family of Charities, announced the launch of the new and improved version of Travelchair.
Traveling by air with disabled children can be difficult. However, for many families being able to fly with their little ones is a need to receive treatments and specialized therapies.
Developed with the support of the UK Civil Aviation Authority and European Aviation Safety Agency, Travelchair was originally designed to meet the need to enable disabled children to fly in comfort and at reasonable cost.
"In 1997, we flew out to Florida to enable our daughter Roxy to participate in Dolphin Human Therapy," Gilly Golesworthy recalls. "The TravelChair did not exist at that time, and we had to fly Roxy by stretcher which took up 12 seats on the aircraft."
"In 1999, we were lucky enough to be the first family to use the TravelChair prototype," Gilly says. "TravelChair was comfortably positioned in a suitable aircraft seat, and we settled in for the 9 hour flight during which Roxy was comfortable and happy because she felt supported and safe."
Ever since Gilly and Roxy's pioneer flight TravelChair has been used by Monarch, Virgin Atlantic and British Airways with success for many years. 
Cabin crew and parents alike have given positive feedback with regard to the easy handling of the product inside the aircraft, and how the chair provided children with adequate support and comfort throughout the duration of the flight.
The new, improved version of the existing chair has been developed to provide even better support and comfort, and to fit into the overhead locker for easy stowage. 
Measuring 249 x 396 x 548mm, the TravelChair is lightweight (approx. 6kg) and easy to carry. It has been designed to fold up neatly and fit into the over-head locker for easy stowage. The maximum sitting shoulder height of the child is 52cm and • maximum weight is 35kg. TravelChair is suitable for children fed by gastrostomy tube/jenenostomy tube/jejenally, either by bolus feed or continual feed.
Virgin Atlantic is the first airline to purchase the new, improved TravelChair and will be taking delivery this October.
Parents wishing to purchase TravelChair can do so directly from MERU. Stock will be available from September 2012. The lead time for new orders is approx. 6-8 weeks. Parents seeking more information may contact MERU's sales department at +44 (0)1372 725 203.