Milano Malpensa Airport Disabled Services Exceed Expectations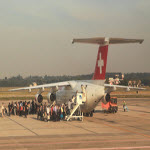 Despite its badly planned lay out, Milano Malpensa Airport services for disabled passengers greatly exceed expectations.
Milan Malpensa Airport is one of three airports of Milan, the others being Milano Linate Airport and Orio al Serio Airport (Bergamo),which is Ryanair's main Italian operation.
Malpensa is northern Italy's main airport and is divided to present travellers with two options. Terminal 1, formerly a major hub for the national carrier Alitalia, is now an intercontinental airport which also serves other scheduled domestic, international and intercontinental flights, with Terminal 2 dedicated solely to easyJet flights.
In 2011, the airport was the 21st busiest airport in Europe in terms of passenger numbers, handling nearly 20 million of them. It is also the second largest airport in Italy (Rome Fiumicino's Leonardo da Vinci being the first) for hub transit passengers.
Malpensa has two runways, with a third one set for completion in 2012. In 2000, it underwent a major overhaul and resurrected itself as a typical Italian stylish work of art – sorry, I meant airport. 
Sadly, however, the cosmetic renovations failed to dig deeply enough into the challenges of an airport well known for its badly planned lay out, dirty washroom facilities, poor, confusing signage, sparse seating and inadequate transportation to Milan centre (which is about 30 miles away, the shuttle bus only operating to and from Terminal 1).
However, all is not lost. The facilities offered to its vulnerable passengers are very thorough. As per usual, please alert your airline or travel agent at least 48 hours before embarking on your trip, and, from there, your details will be passed on by your chosen airline to the Sala Amica, the Italian reduced mobility service provider. As always, they will assist the passenger every step of the way, from check-in to security clearance and including every other airport formality.
There are very clear assistance points for reduced mobility traveller, with the choice of either using one of the Sala Amica phones, which are located at the terminal entrance, or by making yourself known to the check-in desk, who will then summon a Sala Amica representative to provide assistance for you.
The disabled parking facilities are also easily accessed, located near to the Bureau De Change areas at the car park entrance. Some areas even provide free parking on presentation of your disability badge and some can even be pre-booked on 0039 02 58581069.
Within the parking area, you will also find telephones which will connect you directly with the Sala Amica. 
So all in all, not too bad an experience, provided you put yourself into the expert hands of the appointed representatives.
About the author:
Sandy Walker worked in the airline industry for 25 years as ticket agent and supervisor until diagnosed with secondary progressive multiple sclerosis, resulting in a career change to freelance travel writer. Born in London, she now resides in Tuscany.