Disability Travel: Gatwick Efficiency Magnifies Heathrow Weakness
Written by Roberto Castiglioni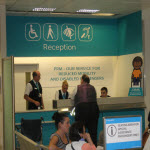 Impeccable assistance services for disabled passengers at London Gatwick magnify London Heathrow airport weaknesses in PRM assistance levels.
Less than 25 miles separate London Gatwick from Heathrow airport; however, the gap is much bigger when comparing assistance services for disabled passengers and passengers with reduced mobility these major airports offer.
Wheelchair repatriation is an area of growing concern at London Heathrow airport. "Following a recent passenger complaint about Heathrow Airport Limited (HAL), the CAA's investigations have revealed that there may be wider issues across the airport with repatriating wheelchairs," a CAA spokesperson told Reduced Mobility Rights.
"The CAA has requested that Heathrow Airport Limited measure, and report to the CAA each month, instances of service delivery failure in terms of repatriating wheelchairs," Jean Louis Colson, head of the Passengers Rights division at the European Commission told Reduced Mobility Rights.
Travel 25 miles and discover a whole new concept being rolled out. A distinctive "Please take me to the gate" tag is being put in service at London Gatwick airport. The label is printed on both sides on gloss card to make it strong enough to resist loading and unloading process.
"The special tag is given by the airline check in staff at Gatwick to a passenger travelling with their own wheelchair," Alex Lear, Performance Manager of PRM Services at Gatwick airport explains. "When the passenger is making their return journey to Gatwick, they can attach the tag to their wheelchair, and this identifies it to the airline loading staff that the wheelchair is to be repatriated with the passenger as they disembark the aircraft, rather than being taken to the baggage reclaim hall."
Another area in which Gatwick outsmarts London Heathrow airport is disabled passengers reception lounges.
I recently visited Terminal South at London Gatwick and Terminal 1 at London Heathrow. At Gatwick, clear signage directs passengers with reduced mobility to the reception lounge that is conveniently located in a quiet are of the check in all. The lounge is clearly marked with large signs.
Heathrow airport recently revamped the reception lounge at Terminal 1. There are no signs indicating where the lounge is located other than a temporary board where the old reception was. The new lounge is located opposite to the arrival hall of domestic flights. Access to the lounge for wheelchair users is challenging at peak times, when the domestic arrival hall is operating at full capacity.
Quantity and quality of information available to passengers with reduced mobility and other disabilities is another area in which Gatwick prevails over London Heathrow.
We compare the Service Level Agreements of Gatwick airport website, which welcomes disabled passengers with a video guiding the traveller through all features available within the terminals, and the London Heathrow website.
Gatwick Service Level Agreement Page 1 / Page 2 (PDF) London Heathrow Service Level Agreement (PDF)
(Documents downloaded from the airport websites on 2 August 2012)
The difference in quality, quantity, and accuracy of information provided is surprising, a true embarrassment for London Heathrow airport.
It is no surprise that complaints about Gatwick's services for disabled passengers have dropped by 73.5% ever since BAA, who also owns Heathrow airport, sold Gatwick to Global Infrastructure Partners (GIP) at the end of 2009.
About the author
Founder and Editor-in-Chief of Reduced Mobility Rights, Roberto Castiglioni has deep knowledge of PRM regulations and handling procedures, along with first-hand experience as travelling companion and carer of a passenger with reduced mobility.
Roberto is a member of ESAAG. Chaired by the Hon. David Blunkett MP, the Easyjet Special Assistance Advisory Group, ESAAG, provides Easyjet with strategic guidance and practical advice on the evolving needs of passengers requiring special assistance. Easyjet is the largest airline in the United Kingdom by number of passengers carried.