Singapore Airlines The Jewel In The Airline Crown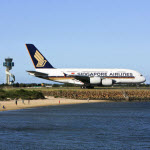 Singapore Airlines is, to my eyes, the jewel in the (airline) crown: best customer service and customer care, friendly, efficient, caring staff, pristine aircraft and faultless in-flight service. 
In addition, as I have a particular love of the Far East, its inhabitants, its culture and its gentle, gracious and considerate ways, I frankly feel Singapore Airlines personifies it all.
If I were planning on making the lengthy trip from Europe to the Far East, I would have no hesitation in choosing this airline to transport me there. Long haul travel can be stressful enough at the best of times, but even more so if one has been burdened with the additional challenge of a disability.
Singapore Airlines are well aware of this and have excellent training in place for their personnel, as well as proactive planning available for their vulnerable travellers. 
Their tenet fosters harmony and respect, and the details of the arrangements made for the latter before, during and after their chosen flight are laid out clearly in a detailed 'check list', even going so far as to describe how their wheelchair carrier will be in constant communication with them on their journey to and from the aircraft, and with passengers being encouraged to communicate any queries or concerns.
A little bit more about this airline. Their hub is Changi Airport, Singapore, and they fly to 63 destinations in 35 countries on six continents. Together with their subsidiary Silk Air, they are able to connect Singapore with more international destinations in the Far East than any of the other Southeast Asian airlines. They are Star Alliance members and codeshare with six airlines at last count.
The airline was the first to purchase the awesome Airbus A380, which is the world's largest passenger aircraft. In fact, the airline operates an all wide-body aircraft fleet, consisting of Airbus A330s, Airbus A340s, Airbus A380s and Boeing 777s.
Singapore Airlines has won many 4 and 5 star awards on Skytrax, the world's largest review site, some of which relate to the airline's Economy and Business class cabins, their service and efficiency, in-flight entertainment, meal service across all cabins and crew attentiveness and I, for one, am not surprised in the slightest! 
About the author:
Sandy Walker worked in the airline industry for 25 years as ticket agent and supervisor until diagnosed with secondary progressive multiple sclerosis, resulting in a career change to freelance travel writer. Born in London, she now resides in Tuscany.