Germanwings No Frills Option For Disabled Passengers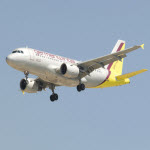 In today's aviation industry it is refreshing to see that no frills airlines like Germanwings work hard to provide for disabled passengers' needs.
Germanwings – which should not be confused with German Wings, an airline that was active in the late 1980s and has since ceased operations – is a delightful little airline, offering low cost but very decent service across Europe, Russia, Morocco, Tunisia, Turkey and Israel.
The airline has its main base in Cologne and is owned solely by Lufthansa. It operates a smart, young fleet of 32 Airbus A319-100s which are easily recognisable with their stylish grey body and bright yellow tail livery.
Its fare structure is very passenger (and purse!) friendly, offering a good range of booking options; you are even allowed to reserve a seat up to 3 hours before your flight! At the current time, a standard seat reservation will cost you £7.00. Their 'Best Seats' option, which provides more generous leg room, comes at the cost of £13.00. These seats are located in rows 1 to 10. 
You also get three ticket purchase options; Basic, Best and Flex. The Best option allows you to check in one piece of hold luggage, reserve a seat (this includes the Best Seats, subject to availability) and be served a complimentary drink and snack on board, all this with a saving of 40% compared to booking these extras separately. 
The Flex option is more expensive and is aimed mainly at business travellers who may need to change their booked flights. The airline even has its own Frequent Flyer club!
Most important of all, of course, is the fact that the airline has a very considerate awareness of its passengers with disabilities, and feature a very clear cut, easy to understand booking procedure when requesting assistance online. 
It is made apparent on the site that passengers with reduced mobility and other challenges will always be allowed to board first when travelling with Germanwings.
Guide dogs can also be accommodated on-board free of charge. As the airline will only carry one dog per flight, it is recommended that you contact it before booking to ascertain whether the option is still available.
This airline has shown that offering no frills fares does not automatically have to result in a no frills service. Ryanair – take note!
About the author:
Sandy Walker worked in the airline industry for 25 years as ticket agent and supervisor until diagnosed with secondary progressive multiple sclerosis, resulting in a career change to freelance travel writer. Born in London, she now resides in Tuscany.