Air Canada, A Lovely Airline At One Time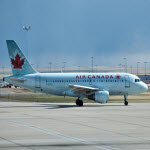 Recently named Best International Airline North America at the 2011 World Airline Awards, Air Canada still needs to try harder to retain loyal customers.
The airline started its life as Trans-Canada Airlines (TCA), and changed name to Air Canada following government approval.
It is now the world's tenth largest passenger airline, flying to 178 destinations worldwide, and is one of the founding members of Star Alliance, joining 24 other members. Its main hub is Toronto Pearson International Airport.
The airline's fleet consists of an array of Airbus A330 and Boeing 767 and 777 wide-body jetliners specifically for long-haul destinations; for short-haul routes, they fly Airbus A320 family aircraft, including the A319, A320, A321 variations, and Embraer E170s and E190s.
Over the last decade, the airline has sadly faced a number of financial difficulties, brought on by a combination of global recession, the Severe Acute Respiratory Syndrome (SARS) outbreak – between November 2002 and July 2003, which resulted in a temporary shut down of Toronto airport, as a passenger who had recently flown home was diagnosed with it – and the 9/11 tragedy, which was responsible for a temporary reduction of passenger numbers.
The airline filed for protection under the Companies' Creditors Arrangements Act, but was able to re-establish itself a year and a half later.
Now, whether this past temporary rough patch in the airline's history has anything to do with the fact that it still seems to go through highs and lows when it comes to customer care is anyone's guess. 
One would have thought that the need to try harder in order to retain long-standing passengers and interest new ones would be paramount for the airline, but I am sorry to say that I see nothing of the sort.
The main complaints seem to concern the robotic, indifferent check in and ticketing staff (not at all airports, I'm sure) with not much assistance given at connection points – especially if one flight is late and the passenger needs rebooking onto a different onward one – and unfriendly flight attendants.
Many of the flights seem to suffer from the lack of a much needed in-flight entertainment upgrade, as many a time passengers have been unable to access whatever had been on offer.
I can only hope that, despite these shortfalls, the airline looks after its vulnerable passengers adequately. It was a lovely airline at one time; I would like to see it back on top form for customer care. 
About the author:
Sandy Walker worked in the airline industry for 25 years as ticket agent and supervisor until diagnosed with secondary progressive multiple sclerosis, resulting in a career change to freelance travel writer. Born in London, she now resides in Tuscany.