Stockholm-Skavsta Airport: What Ryanair Does Not Tell You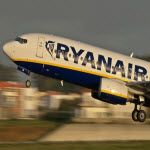 Advertised by Ryanair as Stockholm airport, Skavsta Airport is 100 kilometres and 90 minutes travel time away from Stockholm itself.
If you are planning on travelling to Stockholm with Ryanair, be aware that, even though the destination is advertised as Stockholm airport, in good old Ryanair speak you will actually be landing at Skavsta Airport near Nykӧping, approximately 100 kilometres and 90 minutes travel time away from Stockholm itself.
I wanted to emphasise this because, if you are not hiring a car and opt instead to make use of the airport coach service to town, you should be warned of the fact that their schedule is limited; they only operate hourly. However, you have probably planned on hiring a taxi – therefore, please be aware that these must be pre-booked. 
Skavsta Airport started life as a military airport and remained so until 1980, when it was closed and taken out of service. In 1984, Nykӧping city decided to re-open and re-vamp it, making it Stockholm's second largest airport – Arlanda being the largest – and the third largest in Sweden. It handles up to 2.5 million passengers annually and is popular with budget airlines, such as Ryanair and Wizz Air. 
The current airport is small and clean, but presents a dire lack of some of the usual facilities; for example, there is only one disabled (and standard) toilet both landside and airside and seating can be very limited, especially during peak times.
Make sure to book all your reduced mobility travel needs with the airline that you will be flying with at least 48 hours ahead of your trip. If you need assistance prior to arriving at check-in, you will find Special Assistance Meeting points located in the car parks and also at the taxi and bus stops outside the terminal's main entrance. In addition, there are Meeting points in both departure and arrival halls.
Remember, as is the case with most low cost carriers, there will be the usual mad dash for seating as it probably will not have been pre-assigned. Booking ahead for assistance will ensure that your designated special assistant will be there to facilitate your boarding. I realise this may be asking for a lot if you are flying Ryanair, but let's try and stay optimistic.
Additionally, if you are unable to negotiate the aircraft steps, the airport has its own Ambulift, which will lift reduced mobility passengers and wheelchairs up to the aircraft door.
If you have any questions and would like to speak to the airport itself, they can be reached on 0046 (0)155-28 04 00. They are available Monday – Friday between the hours of 09.00 – 17.00.
About the author:
Sandy Walker worked in the airline industry for 25 years as ticket agent and supervisor until diagnosed with secondary progressive multiple sclerosis, resulting in a career change to freelance travel writer. Born in London, she now resides in Tuscany.