Gatwick Takes Services For The Disabled To Next Level
Written by Roberto Castiglioni
One month before the start of the 2012 Paralympics, London Gatwick airport rolls out new and improved services for disabled passengers.
Gatwick airport, London's second largest international airport, serviced over 33 million passengers in 2011. Of those, 381,000 were disabled passengers and persons with reduced mobility.
Formerly owned by London Heathrow's owner BAA, Global Infrastructure Partners (GIP) now owns Gatwick airport. GIP recently sold shares of Gatwick airport to the National Pension Service of Korea and Abu Dhabi Investment Authority. CalPERS, the US's biggest state pension fund, also own 12.7% of Gatwick Airport. 
Ever since the change of ownership, complaints about Gatwick's services for disabled passengers have dropped by 73.5%.
Reduced Mobility Rights toured the new and improved PRM services of Gatwick in the days ahead of their official launch. It is no coincidence that these improvements are rolled out few weeks before the opening of the 2012 Paralympics.
Recently praised by our own Sandy Walker, who defines Gatwick as a stress free airport for the disabled passenger, the south London airport already features six dedicated ambulance minibuses, five ambulifts (special buses to assist disabled passengers access the aircraft), dedicated assistance lanes in security and immigration halls in both terminals, and "spa-like" toilets for disabled passengers in the South Terminal.
The latest upgrades feature a new meet and greet area in the North Terminal forecourt, upgraded reception lounges in both South and North Terminals, new changing and shower facilities, eight new video link help points located in all main access points of both terminals, and also twenty upgraded help points inside both terminals.
Gatwick airport PRM managers have taken suggestions made by the airport Passenger Advisory Group into serious consideration whilst revamping services.
Attention to the human factor and the dignity of disabled passengers is perceived when looking at significant details like the calm environment of the dedicated security check area.
The security zone layout guarantees superior room for manoeuvre for wheelchair users. Personnel manning the security check area are trained to the highest standards to ensure understanding of the needs of disabled passengers.
Blind passengers are walked through the terminals, not required to sit in a wheelchair.
Past security, passengers with reduced mobility have access to a protected waiting area located in the middle of the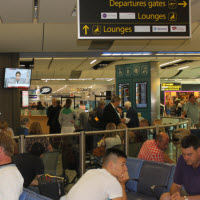 general seating area. Unlike other airports, London Gatwick walked the extra mile to avoid segregating special needs passengers from the general public. 
Disabled passengers wishing to leave the waiting area to shop or grab a snack are provided with a pager that will notify them to return to the waiting area 10 minutes prior to boarding their flight.
New disability compliant seating has been introduced in every area of the airport terminals. Disabled passengers arriving at London Gatwick benefit from exclusive passport control lanes. These wheelchair accessible lanes are separated from the main passport control desks.
Passengers requesting assistance will be helped collecting their luggage, and clear immigration. If needed, disabled passengers will be accompanied to the train station, bus lanes or parking lots adjacent to the terminal buildings.
A user friendly video, which explains the journey inside the airport terminals, is available on the Gatwick airport website.