Vienna Friendly Airport For Persons With Reduced Mobility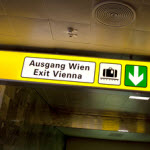 Vienna Schwechat International airport is the busiest airport in Austria and, at this present time, is still a work in progress. 
Having handled approximately 21 million passengers in 2011, the new Austrian Star Alliance building was opened in June 2012, enabling the airport to increase its handling capacity to 30 million passengers.
The airport has one terminal with four check in areas, one of which (Check-in 1) is undergoing reconstruction. Despite the renovations having been criticised for not being aesthetically very appealing, the airport offers one of the most helpful online pre-travel information sites that I have ever visited. 
The airport also takes pride in advertising its compliance to the 2006 EU Regulations that transferred responsibility for assistance to persons with reduced mobility to the airports and, in my opinion, has done a grand job. This is just as well because, sadly and despite its ongoing overhaul, there is still a lot left wanting in general passenger facility terms. 
The various seating areas within the airport are very limited and the signage can be quite confusing. On the whole, the airport is clean, but it does look a bit depressing! 
Impressively, the airport website lays out a table listing the 'quality parameters for assistance to persons with reduced mobility'.
If you are being dropped off at the airport, your driver will be able to stop at one of the designated free parking spaces in front of the terminals; from there, a short, level route will take you to the departure areas. You can then either report to the dedicated point to be assisted or go directly to your airline check-in counter.
Parking facilities for reduced mobility passengers are also impressive. The airport offers a 50 per cent parking discount in multi-storey car parks 3 and 4 and car park C. Just present your EU disabled parking permit on leaving the car park (which is open 24 hours) to receive the reduction. If you have any questions, you can also call the dedicated parking telephone number 0043 1 700722886.
If you experience any difficulty and require help in accessing or leaving the car park, there is a call button at both the entrance and exit barriers. Press the button and somebody will very quickly come to assist you.
Summing up, a very user friendly airport for persons with reduced mobility Do not forget, though, that, to ensure a worry free journey, your travel agent or airline will still need to be advised of your travel assistance requirements at least 48 hours before departure.
About the author:
Sandy Walker worked in the airline industry for 25 years as ticket agent and supervisor until diagnosed with secondary progressive multiple sclerosis, resulting in a career change to freelance travel writer. Born in London, she now resides in Tuscany.