Eindhoven Airport Perfect For Disabled Passengers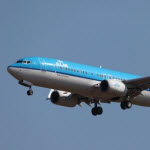 Eindhoven,both a regional and an international airport, offers comprehensive assistance for disabled and reduced mobility passengers.
Eindhoven is reckoned to be the second largest airport in the Netherlands, having handled 2.65 million passengers in 2011. Despite the fact that this figure may appear tiny compared to its big sister Schiphol in Amsterdam, which handled a total of 49 million passengers last year, it does an efficient and friendly job.
The airport is used by both civilian and military traffic, so it is always kept busy one way or the other. The civilian airlines servicing the airport are predominantly those flying holidaymakers to popular destinations – for example, Wizz Air, Transavia and Ryanair – consequently, the airport becomes even busier during vacation times.
Eindhoven Airport gets 10 out of 10 from me for the simple reason that it has lowered kerbs. How wonderful is that? And, on a separate note, wouldn't it be superb if all airports offered this facility? It also ticks all the boxes for me with its easily distinguishable disabled parking spaces (in the P1 car park), which are located only a few minutes walk from the terminal. 
Also bear in mind that, if you are planning on parking long term, you will be charged the lowest parking rate available (make sure to have your disabled parking permit with you at the time of payment).
The whole terminal is marked with clear, easy to understand signs. It also has clean, modern toilets for disabled and reduced mobility passengers and offers very comprehensive assistance for vulnerable ones. On the day, a dedicated member of the airline assistance staff will pick you up – with wheelchair, if required – from various locations within the airport.
You also have the option to be picked up from the P1 car park, by notifying staff of your arrival using the available intercom, if you pre-arrange this when making your reservation.
If arriving at the airport by bus, you can also notify the staff of your arrival by calling the airport information service on 00 31 (0) 40 2919818. You will then be met and transported to your chosen destination within the terminal.
As with all cases, it is important that you inform your travel agent or airline of your requirements, if possible, at least 48 hours prior to your flight.
About the author:
Sandy Walker worked in the airline industry for 25 years as ticket agent and supervisor until diagnosed with secondary progressive multiple sclerosis, resulting in a career change to freelance travel writer. Born in London, she now resides in Tuscany.