O.R Tambo Johannesburg Airport Disabled Services Guide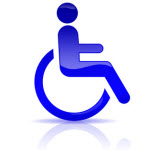 O.R Tambo International Airport, formerly Johannesburg International Airport, has six terminals covering international, domestic and transit flights. Terminal A deals with international flights, while Terminal B handles domestic ones.
Prior to arrival
Passengers who may need help getting on or off the aeroplane or a wheelchair for use in the airport are asked to contact their airline before travel.
Arrival
There are disabled pick-up and drop-off zones outside both the international and domestic terminals, but cars should never be left unattended here or they will be impounded. Drivers are also not allowed to wait in this area, but there is a 'pick up and go' area opposite the main international terminal, which is free for the first five minutes. All other parking at the airport is free for the first 15 minutes.
In the centrally-located multi-storey parkade car park, there are disabled parking bays and accessible pay stations on all levels. The shuttle bus that runs to and from more the remote and cheaper car parks at Super South Gate on the airport estate is wheelchair accessible. It runs every 15 minutes 24/7.
Inside the terminal
The terminals, which were refurbished ahead of the 2010 World Cup, which South Africa hosted, feature wheelchair ramps throughout, travelators so minimal walking is required and adapted lifts for travel between floors, some of which feature braille signs. 
There are also disabled toilets throughout all levels of the terminals and accessible telephones. A golf cart service, which can take wheelchairs, runs from the terminals to the car rental area in the parkade.
The terminal building
Baggage trolleys and porter services are available at the drop-off zones and in other marked areas within the airport. Travellers are recommended only to use the airport's official porters, who wear bright orange uniforms and display Airports Company South Africa (ACSA) permits. A tip of R5 (five South African Rand) per bag is generally recommended. 
The Johannesburg airport's medical centre offers emergency treatment 24 hours a day if needed.
About the author:
Emma Firth has been writing professionally for 14 years, most recently for the Telegraph in the UK. She writes mostly on health, fitness and social media.