Is Frankfurt Airport Too Big For Disabled Passengers?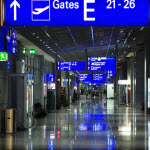 Frankfurt is the biggest airport in Germany and, at last count, was served by 120 airlines; Its size may pose a challenge to disabled passengers. 
The airport has two terminals: Terminal 1, providing 103 gates; and Terminal 2, with a total of 42 gates. To travel between terminals, passengers can use what is known as the people mover system, SkyLine, which is a fully automated, grade-separated mass transit system linking most, but not all (C and A/Z for example) terminals. Alternatively, you can use the regular bus service for the short journey between terminals. 
The first thing I would like to stress is, if at all possible, please, please ensure that you have made your requirements known to the airline carrier well in advance (48 hours is advisable) as the airport itself offers little support for vulnerable travellers intending to make their own arrangements. For a start, I found the signage to be very limiting and was left feeling somewhat vulnerable.
For example, there is very little assistance available for reduced mobility passengers on arrival at the airport, nor any help getting to the check-in counters, and remember: this is a big airport. 
There are what are called 'Mobility Service Stations' dotted around the airport, but you are encouraged to pre-book everything and leave it in the hands of your carrier. I cannot stress this strongly enough; Frankfurt is an enormous airport with some very long walks to passport control and the departure gates!
On the plus side, the check-in counters differ from some other international airports in that they are grouped together by airlines rather than by destinations, which somewhat simplifies things.
If you do put yourselves into the immediate care of the airline, you will probably find yourself experiencing a relatively stress free time. For example, Lufthansa, the national carrier of Germany, has a large percentage of Terminal 1 almost entirely for itself and its associated carriers and prides itself – with good reason – for the care it bestows upon its limited mobility customers.
The carrier will take care of you on check-in and provide you with assistance all the way until you are safely onboard your flight, without worry. Given the choice, however, I would rather be flying from a less frenetic airport.
About the author:
Sandy Walker worked in the airline industry for 25 years as ticket agent and supervisor until diagnosed with secondary progressive multiple sclerosis, resulting in a career change to freelance travel writer. Born in London, she now resides in Tuscany.