Easyjet Special Assistance Advisory Group Gets In Motion
Written by Roberto Castiglioni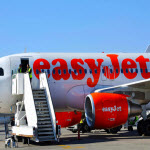 Chaired by the Hon. David Blunkett MP, the easyjet special assistance advisory group held its first meeting at the end of June.
ESAAG was set up to provide Easyjet with strategic guidance and practical advice on the evolving needs of passengers requiring special assistance, in the context of the airlines' unique business model.
The group, consisting of well-respected experts representing a number of disabilities, has as Its primary purpose to review, discuss, challenge and improve easyJet's internal policies and procedures across every stage of the easyJet passenger experience.
It is also expected to provide advice the interpretation and implementation of European guidelines and regulations, from both a UK and pan European perspective thus reflecting national differences.
ESAAG's Chairman, Hon David Blunkett MP, represent the constituency of Sheffield Brightside and Hillsborough. He served in Tony Blair's governments as Home Secretary first, then as Secretary of State for Work and Pensions. 
Blind since birth due to a rare genetic disorder, Blunkett is a vice president of the RNIB and a vice president of the National Alzheimer's Society. 
ESAAG's members are Ann Bates OBE, formerly Deputy Chair of the Disabled Persons Transport Advisory Committee at the Department for Transport; Jean-Louis Garcia. Association pour Adultes et Jeunes Handicap (APAJH); Roberto Castiglioni, editor-in-chief of the Reduced Mobility Rights website; Mervyn Kohler, Special Adviser at Age UK; Marcus Rocca, director of Mobility International Schweiz; Graeme MacLeod, Head of easyjet Customer Operations; Peter Duffy, easyjet Marketing Director; Reginald Otten, easyjet Public Affairs Manager; Kerry Brooks-Walsh, easyjet Executive Support.
"EasyJet wants to make travel easy and affordable for all our passengers. This includes the large and increasing number who need some form of special assistance," Easyjet Marketing Director and ESAAG member Peter Duffy said.
"ESAAG has been set up to provide easyJet with leading insight and practical advice from a group of respected experts across our European network. The group will help us to better understand and meet the challenges and evolving needs of these passengers and their families."
The first meeting of the Easyjet Special Assistance Advisory Group was held on June 19 at the airlines' historic headquarters at Luton airport. The first session was dedicated to assessing challenges, issues and priorities. The group will convene again at the end of October.