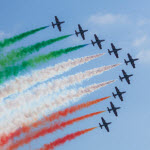 Fiumicino Airport in Rome, also known as Leonardo da Vinci, should be recognized for the caring attitude it has towards the disabled.
Italy may be well known for its cutting edge fashion and design, but should also be recognized for the caring attitude it has towards its vulnerable citizens. 
I find this to be true even when travelling to and from Fiumicino Airport in Rome. The airport, also known as the Leonardo da Vinci airport after the Italian polymath himself, is Italy's largest airport and was classified as Europe's sixth and the world's 25th busiest airport, based on total passenger numbers for 2011.
It would be understandable if you found this information worrying if you were travelling as a disabled passenger, but the truth of the matter is that you have no need to be concerned.
The airport provides ample provision for passengers needing extra assistance and even offers additional aid for special needs travellers arriving by rail. If you do decide to travel by train, on arrival at the Fiumicino shuttle station, make your way to the Sala Amica booth (having booked at least 48 hours in advance) where you will be provided with all the assistance you need.
If you are arriving by car, the Sala Amica booth is easily identifiable and situated very close to the disabled car parking. Identify yourself (again, book 48 hours in advance) and assistance will be arranged to transport you into the terminal. 
Your tasked assistant will bring you to the check in desk and wait while you complete all the necessary procedures. You will then be transported effortlessly through Customs and Immigration.
On a side note; I have noticed the efficient way in which the assistant always ensures you are carefully tucked in to the wheelchair with no limbs left loose and unfettered at the risk of being bumped into by other passengers. On the same theme, the aide always makes sure to carefully place you in the wheelchair, not virtually throwing you into it!
After you have arrived airside, the aide will place you at your dedicated gate and, when the flight is ready to board, either the same or another assistant will return. If you are able to walk up the aircraft steps, the aide will be there to assist with your cabin bag and lend a hand up to the aircraft door. 
If using the wheelchair aircraft lift, you will be carefully positioned and secured and raised slowly to the aircraft. Though I do not require the use of a lift myself, I was able to hitch a ride once or twice to save having to negotiate the steps to the aircraft (as suggested by the aide) and I was able to sit back and watch the airport worker. Absolute kindness and empathy abounded. 
Remember to book your special assistance 48 hours ahead, giving the airport plenty of notice in order for your requirements to be processed as soon as possible.
This is an airport I have every confidence in recommending.
About the author:
Sandy Walker worked in the airline industry for 25 years as ticket agent and supervisor until diagnosed with secondary progressive multiple sclerosis, resulting in a career change to freelance travel writer. Born in London, she now resides in Tuscany.