Accessible Travel: Tips For Air Travel With Qantas
Written by Roberto Castiglioni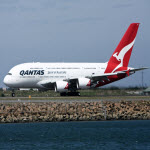 Holidays for disabled people often include short or long haul flights; We interviewed Qantas management to compile a list of tips for disabled passengers.
Accessible travel is a key definition in today's tourism industry; holidays for the disabled must be tailored around wheelchair friendly policies of airlines, public transport companies, and hotels.
Reduced Mobility Rights interviewed Australian flag carrier Qantas management to understand which services for disabled people the airline offers to compile a list of air travel tips.
Founded in 1920, Qantas Airways operates a fleet of 141 aircraft to 41 domestic and international destinations.
Disabled passengers required to travel accompanied and a travel companion benefit of discounted fares when flying Qantas within Australia. "For Qantas domestic travel within Australia, passengers who require an assistant or carer to travel are eligible for a reduced fare for both themselves and one assistant or carer," a spokesperson for Qantas Airways explains. "The passenger must hold a Qantas Carer Concession photographic identification card issued by the National Information Communication Awareness Network (NICAN)."
Airlines require the presence of a travel companion when the disabled passenger's condition is severe enough to impede the passenger to reach an emergency exit unaided, retrieve and wear a life jacket, or is unable to communicate with the cabin crew or understand safety regulations.
Another notable aspect when traveling by air is for the disabled passenger and his/her companion to be seat together. "We recommend that all passengers who are travelling with an assistant or carer make a booking for the assistant or carer at the same time as the passenger," Qantas management says. "This is primarily for seating allocation purposes to ensure the assistant or carer sits adjacent to or near the passenger with specific needs."
Cabin crew training is also essential when traveling with a disability. Normally, flight attendants are trained to assist disabled passengers with their seating needs and to move about the cabin. However, there are a number of other conditions that are becoming part of cabin crew training. For example, autism is known as nonapparent disability; however, this condition requires careful handling when engaging in activities like flying.
Qantas is among those airlines that provide specific training to their flight attendants. "Qantas cabin crew receive training in relation to assisting passengers with disabilities, including passengers with autism."
Let's then briefly review some tips for travel by air with Qantas. First and foremost, notify the airline of your individual needs at the time of booking. Always remember to request your travel companion be seated next to you. Remember to ask if you, or your travel companion, are eligible for discounted fares before booking your flight. If you have mobility impairment, have the airline assign a seat near the toilets.