Emirates PRM Crew Training Includes Handling of Passengers with Autism
Written by Roberto Castiglioni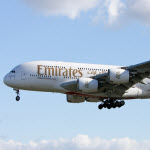 Global airline Emirates are stepping up their cabin crew training on handling disabled passengers in cooperation with Dubai Autism Centre.
Emirates are investing in cabin crew training to better handle wheelchair users and disabled passengers in general. Operating a fleet of 177 aircraft to 121 destinations worldwide, Emirates is the largest Middle East airline.
Cabin crew training on services for disabled people is of paramount importance for the airline industry given the ever increasing number of disabled passengers on airlines.
In an exclusive interview with Emirates, the airline shared their efforts to understand the needs of passengers with Autism.
"Group Medical Training, part of the Emirates Training Centre, has developed a relationship with the Dubai Autism Centre (DAC) to understand in depth the needs of customers with autism," a spokesperson for Emirates explains. 
"The group has visited the training facilities and have observed some of the cabin crew training sessions on interacting passengers with disabilities. There are no training provided on customers with autism specifically; however, all crew receive training on general principles when interacting with customers with all types of disabilities."
The most common potential difficulties and or limitations that may occur when dealing with passengers with autism concern three main spheres: deficits in the development of social interaction; deficits in the development of interpersonal communication; deficits in the development of imagination and understanding of social situations. 
Categorized as non-apparent disability, this condition requires delicate handling when engaging in activities like flying. Carers of autistic passengers are the first line of defence for the individual, and the logical interface with cabin crew and other passengers.
Tips for air travel with passengers with autism are undemanding and straight forward. Prepare the person well ahead of the date of travel. Inform the airline of the condition. Upon boarding, inform the flight's purser of the condition. It is common sense to make fellow passengers seated in the vicinity of the passenger with autism aware of the person's condition. Keep the special needs passenger engaged with his/her preferred activities. Bring along his/her favourite food.
Emirates focus on cabin crew training aims to ensure its flight attendants are prepared to handle passengers with reduced mobility and other disabilities with the utmost care. 
"Group Medical Training is developing an e-learning programme for staff which complies with the United States Department of Transportation Air Carrier Access Act which that prohibits discrimination against passengers with disabilities," Emirates tells Reduced Mobility Rights. "This programme provides awareness and education to staff across the Emirates Group on interacting with customers with disabilities."
Are you disabled or a carer of a disabled person? Have you recently flown with Emirates? Share your inflight experience using the contact form.