Virgin America Fined $100,000 For Disability Complaint Violations
Written by Roberto Castiglioni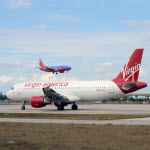 The U.S. Department of Transportation fined Virgin America $100,000 for filing incomplete reports with the DoT and not responding adequately to disabled complaints.
"We expect airlines to respond individually to disability-related complaints and to report those complaints to us," said U.S. Transportation Secretary Ray LaHood. "These are important parts of our rules protecting the rights of passengers, and we will continue to take enforcement action when they are violated." 
While conducting a routine inspection at Virgin America's corporate headquarters in July 2011, the DoT's Aviation Enforcement Office discovered that, in many cases, the airline failed to provide a written response that addressed the consumer's complaint. 
DoT's inspectors also found that Virgin America failed to properly classify and account for all the disability-related issues that were raised in the complaints the carrier received during 2008 and 2009. 
Because of improper complaints' categorization, a number of complaints were missing from Virgin America's annual reports submitted to the Department in 2009 and 2010.
DOT rules require airlines to record disability-related complaints, categorize them by the type of disability and type of the complaint, and submit an annual report on these complaints to the Department. If a single customer correspondence covers more than one issue, each issue must be counted as a separate complaint. 
When an airline receives a written complaint alleging a violation of the Department's disability rules, the carrier must provide a written response within 30 days that specifically discusses the complaint, gives the carrier's view of whether a violation occurred, and states that the complaint may be referred to DOT for an investigation.
"As an airline typically known for the quality of its guest service, we take these issues seriously and we took immediate steps in 2011 to ensure more detailed written responses to these types of complaints and more accurate reporting to the Dept. of Transportation." a spokesperson for Virgin America said. 
"Although the cited issues were primarily related to compliance with the technical requirements related to reporting these types of complaints to the DOT and to responding to complaints fully in writing,  it should be noted that the airline has and continues to respond to consumer complaints of this nature and has provided compensation, refunds and other redress as appropriate, directly to travelers."  
Headquartered in Burlingame, California, budget airline Virgin America operates a fleet of 52 aircraft to 18 destinations. The Virgin Group (Virgin Atlantic) own 25% of Virgin America.