Air Arabia Accused of Discrimination Against Disabled Teenager
Written by Roberto Castiglioni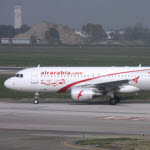 Budget airline Air Arabia has been slammed with the accusation of discrimination against a disabled teenager.
Hana Ahmed, 15, boarded the Air Arabia flight from Sharjah to Goa together with her parents. The family had pre-booked emergency exit seats.
Upon taking their assigned seats, a crew member approached the family and asked them to changed seats.
The request was triggered by the crew member visually recognizing the nature of Hana's disability, down syndrome.
Upon Hana's father refusal to change seats, the crew member allegedly said "Look at your daughter... you still want an explanation? Is not it obvious?" 
Eventually, one of the pilots was called to convince the family to change seats. "We felt belittled, embarrassed and enraged with anger and humiliation by someone who has very little knowledge about our daughter and her condition. He implied my daughter had no right to be on the flight," Hana's father said.
The man demands an apology from Air Arabia and the crew member who originally asked them to move seats. However, the airline refuses to apologize, stating crew acted with professionalism.
"As per international airline safety regulations, disabled people and people with reduced mobility are not permitted to occupy seats which allow direct access to emergency exits. This rule is made clear at the time of booking and is included in the terms and conditions of the ticket," a spokesperson for Air Arabia said.
The following rule can be found on Air Arabia's website, within the Terms and Conditions page which passengers are prompted to read during the booking process.
"Customers with special needs, together with the elderly, frail or any other customer who, in our reasonable opinion would be unable to assist in the event of an emergency, will not be seated at or adjacent to an Emergency Exit."
"Upon recognising that Mr Ahmed's daughter was occupying an exit row seat, our cabin crew followed standard procedure and requested that Mr Ahmed and his family switch to alternate seats. Following Mr Ahmed's refusal, and with the possibility of the flight being delayed or the passengers being offloaded, the First Officer was called to make a final attempt to resolve the situation." 
Unlike the vast majority of airlines' websites, Air Arabia's site does not provide accessible information to passengers with special needs. Such information can only be found in the Terms and Condition pop-up page.
Reduced Mobility Rights believes Air Arabia should immediately take action in addressing this gap, adding to its web site an easily accessible section containing essential information for disabled passengers and passengers with reduced mobility.
Based in  Sharjah, United Arab Emirates, Air Arabia is the largest budget airline in the Middle East, operating a fleet of 27 aircraft to 66 destinations across the region.