KLM Working on a Solution For Disabled Toddler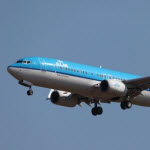 Jolina Skye Barton's case, the disabled child scheduled to fly to the Antilles to undergo an alternative treatment is close to a solution KLM says.
Three year old Jolina suffers from a rare form of epilepsy. Her parents spent the last six months raising funds to get her to Curacao, Dutch Antilles, to undergo an experimental dolphin therapy which has been proven beneficial to patients with Jolina's condition.
Jolina's travel plans hit a bump last Friday, when her mother learned from KLM that she would have had to pay approximately £660 to the airline for the oxygen the toddler needs during her flight.
"I rang KLM last Friday just to confirm the details of the flight and was told we still had 800 Euro payable for the oxygen,"Jolina's mom Jennifer said.
The additional amount for Jolina's oxygen exceeds her parent's availability, putting the whole trip at risk.
"We take this matter very seriously," a spokesperson for KLM told Reduced Mobility Rights. "The safety and wellbeing of our passengers are our top priorities, and we want to be sure that Jolina can travel with us without any hassle. Meanwhile we contacted her parents again and are working on a solution. We cannot provide further details here in respect of their privacy."
KLM offers the possibility to provide passengers with a medical condition with compressed oxygen during their flight. Passengers may also seek to bring their own Portable Oxygen Concentrator. Either application must be made in advance by a medical doctor. 
Jolina's parents originally called KLM heartless, not being fully aware of the airline's regulation. What is decisive is that the misunderstanding has been cleared, and Jolina is about to get her chance at improving her quality of life.